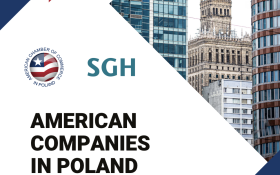 The report titled "US. Companies in Poland – Capital for Development and Security" by AmCham and the SGH Warsaw School of Economics was recently launched. The report was called by HE Mark Brzezinski an important and timely picture of the U.S. investments in Poland, which recognize Poland as a dynamic market and business partner of the U.S.
For more than three decades, Poland has attracted foreign investment capital, being a prosperous location in Central and East Europe, with a receptive market and a large labor pool. Both 2021 and 2022 saw record foreign direct investment inflows, with nearly $30 billion flowing into our economy each year. U.S. companies are now the second largest group of foreign companies in our country, after German investors, and their capital amounts to 12% of foreign capital located in Poland.
Currently, 1,576 enterprises owned by American companies are present in our country, having invested $26 billion, and their assets are estimated at nearly $59 billion. The value of U.S. companies' investments in Poland corresponds to 4.1% of Poland's GDP.
U.S. companies invest twice as much worldwide in services as in manufacturing, but in Poland, the bulk of their investments (48%) are in industrial manufacturing. In turn, the most numerous is the IT industry, with 137 companies.
One in four jobs out of the current 327,000 were created after 2018. Since 2018, employment in companies with U.S. capital participation has increased by as much as 23%.