23 listopada 2021
Category:

Community News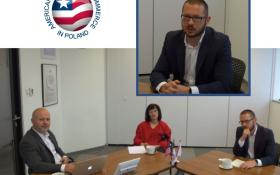 On Wednesday, November 24, 2021 AmCham hosted 'Understanding 'Fit for 55' package – the New EU Legal Framework for Climate Change' meeting. The meeting was organized by Manufacturing, Industry & Energy, Agri, Food & FMCG and Sustainability Committees and run by Ewa Mikos, Co-chair of the Manufacturing Committee and Mateusz Jurczyk, AmCham Kraków & Katowice Director.
The meeting speaker was Mr. Paweł Rożycki from the Strategy and Climate Transformation Planning Department of the Ministry of Climate and Environment.
Mr. Różycki started his presentation from explaining the background and the main assumptions of the 'Fit for 55' package. Then, in a very detailed way, he presented mechanisms and aims of the main pieces of legislation planned. What's most important, he also sheared a current view of the Polish Government on 'Fit for 55'including threats and challenges for both legislators, companies, and consumer.
As one of the meeting aims was to open a dialogue between AmCham members and the Ministry around Fit for 55, the meeting was concluded with a mutual statement on cooperation and information exchange. AmCham members will have a chance to present their views and policies towards 'Fit for 55'to the Ministry in January 2022.