30 września 2021
Category:

Community News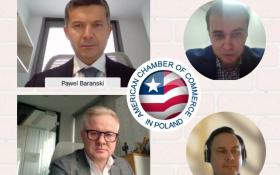 On September 30, the AmCham Tax & Financial Services Committee kicked off a series of meetings entitled The Polish Deal (Polski Ład) – What changes in taxation await us.

We have started with an introductory session with KPMG Poland speakers, Andrzej Marczak, Partner, Head of Tax in CEE, Head of Personal Income Tax Services in Poland, and Paweł Barański, Partner, Head of Tax and Legal.

The Polish Deal aimed at bolstering the post-pandemic economy will introduce important amendments to the Polish tax system that will impact AmCham members. Some of the topics discussed included personal income tax, innovation reliefs, changes in the withholding tax (WHT), and many others. The participants agreed that due to the complex nature of the issue, longer vacation legis would be welcomed. It was the first meeting in the series and watch out for our following sessions on the Polish Deal.