15 marca 2023
Category:

Community News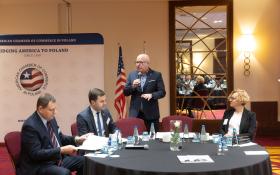 On February 28, 2023, AmCham members met at Warsaw Marriott Hotel to set the stage for a new working group designed to help the American business community in Poland participate in the reconstruction of Ukraine. The working group is to be called 'Rebuild Ukraine', and will serve as a body for AmCham members to participate in discussions, opinions and advice on the best mechanisms for the international business community to participate in the reconstruction of the Ukrainian infrastructure and the economy.
Among the participants of the meeting were Oleh Kuts, Deputy Chief of Mission at the Embassy of Ukraine in Warsaw, and Andy Hunder, CEO and President of AmCham Ukraine. The meeting was led by Tony Housh, AmCham Chairman, and Jolanta Jaworska, AmCham Treasurer (IBM).
In his opening remarks, Tony Housh said that while American companies in Poland need to participate in the revitalization of Ukraine, all AmChams in Europe are speaking with one voice about the need to have a free and prosperous Ukraine, which is important not only for the Ukrainian people but for Europe as well.
He added that the reconstruction of Ukraine will amount to the largest economic recovery and modernization project since the Marshall Plan after WW2. "The scale and magnitude of this are going to be tremendous, hard to comprehend at present in terms of its scale, the money involved and the effort necessary to succeed," Housh said.
In his remarks to the chamber, Oleh Kuts said that the Ukrainian government is working to set up ground rules for rebuilding Ukraine and awarding business to the private sector having in mind to create transparent rules and procedures that rule out room for corruption and nepotism. He asked the American business community in Poland to contribute to the process by offering suggestions, vision, and sharing experiences with the Ukrainian government. "Not only do we want to rebuild Ukraine but do it better at the same time," he said, adding that a strong civil society with democratic governance is the future of Ukraine. "The main lesson from the Russian invasion so far is that we should be open to the civil society which has been an engine moving us closer to victory," Kuts said.
Another speaker, Andy Hunder, gave a short roundup of how the war had changed the reality of doing business in Ukraine. He said that 70 percent of AmCham Ukraine member companies were still doing business in Ukraine, while 88 percent of them continue to pay salaries to their workers in full. Over 20 percent of AmCham Ukraine members had their property or factory damaged, but a significant number of them are being rebuilt and some had already reopened. However, 19 percent of AmCham Ukraine member companies had at least one employee was killed during the war. Hunder said that the Ukrainian GDP is down 30 percent as compared to the pre-war numbers, but there are sectors, such as IT, which recorded growth or revenue during the war. Others are doing fine, such as McDonald's, which, after reopening its nearly 70 restaurants in September 2022 had served 15 million customers at nearly 70 restaurants. However, Hunder said that "the reality is that there are air raid sirens almost every day and there are procedures that the staff need to follow including asking everybody down to the shelter—and if there is not one available at the restaurant, they have to close the restaurant and go to the closest metro station". Hunder noted that the Ukrainian government is fully aware that to keep the economy ticking, key people in companies need to stay on the job throughout the war. A new drafting law will recognize this necessity by allowing businesses to keep 15 percent of their staff out of the army. He also said that the banking sector in Ukraine remains in service thanks to wartime regulations allowing it to transfer its data to data centers outside Ukraine and cloud services provided by US companies such as IBM.
Another speaker, Jolanta Jaworska, said that for US companies to invest in Ukraine, the country has to safeguard high governance standards, transparency and the rule of law. "Our stakeholders will not allow us to spend money in a way which may raise suspicions or even doubts," she said. The meeting continued with a discussion allowing the representatives of AmCham companies to express their expectations regarding the new working group, including that it will contain sub-working groups devoted to specific areas of business and the economy.
Concluding the meeting, Tony Housh presented a list of priority information areas for the Ukrainian side to provide to help AmCham members organize specific thematic agendas for further discussions.