21 marca 2022
Category:

Community News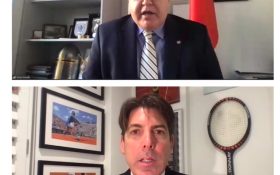 On Monday, March 21, during The First Year of Biden-Harris Administration and Challenges of the New Geopolitical Context event organized by AmChams Romania, Bulgaria, Poland, and Moldova, we had the pleasure to host Jon Decker, White House Correspondent and Senior National Editor for Gray Television.
The event started with a short presentation by Jon about President Bidens first year in office, stating that Biden's approval rating was reasonably good at the start of his presidency, which had its bumps in the road with his popularity slightly falling with time due to various challenges. Challenges mentioned during the talk were the Afghanistan withdrawal which did not go as planned and turned into a disaster, pandemic restrictions were unpopular. However, although the restrictions were unpopular, we have seen travel pick up lately and employment rising with time. Yet, inflation of food products and other goods affected by the disrupted supply chains and high oil and gas prices due to the current conflict with a failure to secure another source such as OPEC and Venezuela still affects Biden's popularity. Finally, midterm predictions have been covered with seats having to be defended in the upcoming elections and whether Donald Trump will decide to run for president again.
During the Q&A session, Tony Housh, Chairman AmCham Poland, followed by David Dolhomut, Project Manager, moderated the session covering various questions. The questions asked have ranged from what happens with Ukraine next and how nearby countries get affected by it, what next with China, and whether the U.S. has the power and will to impose sanctions on China if China assists Russia. There were questions about Vice President Harris's popularity in her first year in that position, clean energy infrastructure, and Americans' feelings about transitioning into a greener infrastructure. Finally, the immigration policy of the United States under the Biden administration and the challenges of immigrants from Central America through Mexico and how their administration will also deal with Ukrainian refugees wanting to go to the United States.