1 lipca 2021
Category:

Community News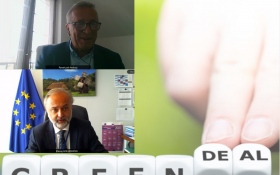 With a biodiversity strategy in place, the European Green Deal sets ambitious goals for the agriculture sector. However, the European Union's priority lies in the protection of the environment and climate. On the other hand, there are some concerns regarding achieving these goals as they increase production costs. 


On June 29, the AmCham Agri, Food & FMCG Committee, hosted Maciej Golubiewski, Head of the Cabinet of the Commissioner for Agriculture, and Mr. Janusz Wojciechowski from the European Commission.


We have discussed the changes in the Polish agriculture structure and the predictions in the coming years when it concerns the Green Deal. Our guest also covered how this deal will impact the competitiveness of the Polish agriculture and food sectors in Poland and Europe, as well as how the European Union plans to respond to the challenges facing the sectors in the coming years. Some questions from the audience included carbon footprints, ecolabeling, and animal welfare.