12 maja 2021
Category:

Community News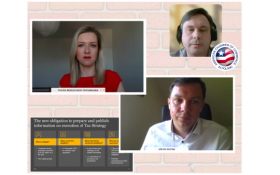 On May 13, the AmCham Tax & Financial Services Committee organized a meeting entitled Tax Strategy: the new requirement and how to approach it. Our speakers were representatives from an AmCham membership company, Mikołaj Wozniak, Partner and Dorota Bokszczanin-Domalewska, Director of PwC Polska.
This year Poland introduced new provisions that oblige certain taxpayers to publish information on the execution of their tax strategy on the taxpayer's website. The wide range of information that will be publicly available includes existing tax processes and procedures, transactions with related entities, planned or undertaken restructuring activities. This means that the new obligation should be approached with care, and activities related to implementing this requirement should be prepared on time.
The conclusions from the meeting indicate that providing general information instead could be an option for some companies. However, most of them will regard it as additional compliance, while the rest may treat it as a good option for being perceived as a reliable and solid business.