29 kwietnia 2020
Categories: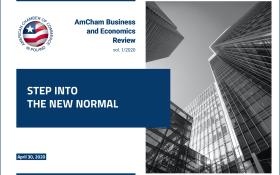 AmCham Business and Economics Review, vol. 1/2020
dr hab. Eliza Przeździecka
Globally, 2020 will be a time of great trial and a balancing act between falling and rising GDP compared to the previous year. Most countries of the world are part of the global economy, operating in global value chains particularly exposed to low global demand and supply chain disorder. The United Nations Department of Economic and Social Affairs estimates the global economy could shrink by almost 0.9 percent and could contract further if imposed restrictions on economic activities extend to the third quarter of the year and if fiscal responses fail to support income and consumer spending. The final result in each country will depend on many different factors. However, a challenging issue seems to be the return to everyday life, which will certainly not be the same as before the outbreak.
Restrictions relaxed
Each country, without exception, is concerned about the overall economic impact of a long-term lockdown. That is to say, countries are taking the proper steps and effort to ensure that the epidemiological threat affects the economy as little as possible. The need to develop exit plans is urgent.
After the Easter break, governments all over Europe are trying to work out a way out of COVID-19 lockouts. Austria was the first European country to announce a comprehensive plan setting out when various sectors could be reopened. Germany, Norway and the Czech Republic are reopening their kindergartens, schools and shops as their efforts to stop the spread of COVID-19 are beginning. Spain has allowed construction workers to get back to work, Italy has opened petrol stations and retail stores. Denmark became the first European country to reopen its primary schools and kindergartens after the coronavirus closure last week. Discussions have already begun in some U.S. states about an exit strategy – President Donald Trump has sparred with state governors about who should decide when to resume operations.
In Poland, the Prime Minister explained what the three principles of the new economic reality are and how they will apply: "isolation, identification and computerization" (in Polish "3-I" – izolacja, identyfikacja, informatyzacja). With the "3-I model", the government has introduced a four-stage plan to remove certain restrictions. These were decisions long awaited by businesses, and now are favorable for retailers. From May 4th, a new phase begins; shopping malls, hotels, and cultural institutions will be opened. The reopening of public spaces come with certain restrictions such as wearing a mask and keeping a two-meter distance from one another.
What's next?
All businesses are looking forward to more relaxations. While nobody may predict when it takes place, any business supporting tools by authorities are valued. One of the most important conditions for a quick economic recession exit is to properly design economic policy tools aimed at maintaining company liquidity and employment. The sensitivity of the labor market was revealed by research carried out by companies associated with the American Chamber of Commerce in Poland: more than half of respondents expect redundancies this year. Nevertheless, personnel costs are indicated as the most troublesome for businesses during the COVID- 19 lockdown. Thus, companies are happy to accept any employment cost solutions as a business supporting tool in the anti-crisis shield – AmCham Survey indicated.
The key steps in daily business relaxation will be those in industries that depend on administrative rather than business decisions. The tourism, aviation, transport, accommodating and entertainment industries are the most affected on the list of businesses suffering from the COVID-19 pandemic. However, in this gloomy picture, there are also industries that can make the negative effects of the economic downturn somewhat milder. The pharmaceutical sector and producers of FMCG goods, including food and other basic consumer products, may increase production. IT services will undoubtedly be a driving force. Not only service providers offering their capabilities on the domestic market have a great chance of success. Thanks to the weakening of the Polish currency, the export of services may increase strongly during these difficult times.
Labor now and tomorrow
Moreover, the labor market will be important for speeding up recovery from the economic collapse. In Poland, before the coronavirus pandemic, a lack of labor pool has been indicated as one of the most critical issues to further develop the country's economy. Meanwhile, due to the coronavirus pandemic, companies will be laying off employees due to the reduction or suspension of their activities. The actual scale of layoffs is likely to become apparent in May and will first affect the service sector. Citi Handlowy experts predict unemployment accounts to 10.9 percent in 2020. Truthfully, this level is not as dramatic as it is in Spain (25% unemployment predictions). Poland used to have a two-digit unemployment rate for a long time in 90s and the beginning of the 2000s, where their economy had been still growing during that period.
Due to current circumstances, there will be an adaptation period as this unforeseen situation has a direct effect on the labor market itself which will undergo a metamorphosis. IT technologies have made the availability of home-office quite efficient and effective and has beaten the expectations that were originally anticipated.These technologies could lead us to a new normal and challenge old business methods in the near future. The personnel of companies from various industries which are currently being affected by the crisis will be required to quickly acquire new skills. This forces a new organization of work in companies, a new management style and brings us closer to the idea that were once described as "future of work" – remote and flexible. This consequence will certainly speed up the development of digitalization, which was unseen prior to the pandemic. One can expect changes in all types of business activity, both large and small companies. In large companies, the coronavirus will hasten the process of robotic automation and bring our economy closer to the industry 4.0 era. In small businesses, the process of digitization of administrative, accounting and communication activities will be accelerated.
With the pandemic keeping us in the unknown as well as companies trying out new technologies, we definitely are about to face a change in the nature of our work. New technologies are now transforming day-to-day life, new types of automation processes and new businesses emerging (i.e. firms that operate through digital platforms) will enable us to scale rapidly without vertically integrating. This change will create a lower demand for low-skilled labor as Artificial Intelligence, Robotic Process Automation and Cognitive Automation will shape the future of many businesses and new methods paving the way to the new normal. Poles, in the opinion of foreigners, as stand out entrepreneurs, display a remarkable level of digital competences and familiarity with information technology. This is already confirmed by the attractiveness of the market for foreign investors in knowledge-intensive business as well as competitiveness of Polish IT services on foreign markets resulted in a boost of export of IT and related services.
Consumption ruins (or runs) the economy
The reconstruction of consumption – domestic and foreign – will depend on national policies. Over the past few years, both mature and developing economies have been large beneficiaries of strong growth in consumption. Demand from consumers began to be their main driver, and now that demand has drastically slowed. According to Eurostat, average household expenditure in Europe has fallen by 30% in March and further decline is very likely. Developed countries which have well-prepared economic policy mechanisms since the last crisis will rebound relatively quickly. Many countries want to help enterprises by stimulating demand with monetary policies by increasing money supply and fiscal policies (i.e. public spending) with low tax revenues. For us, this is particularly important for the speedy reconstruction of supply chains. Poland which is part of developing countries has the highest percentage of exports to one large partner, the EU. Therefore, the activity of German companies is the most important for our companies, which are suppliers to that market.
Maintaining long-term market stability and competitiveness will also depend primarily on foreign economic relations. Being a stable economy – assuming that we maintain this stability and security for investors, we may potentially have a chance to be a substitute market for investors who are saturated with capital, boasting the end of an era, fleeing risky investments and looking for stability. Poland has proved itself to be such a country for the last 30 years, being the only one, next to Australia, that can boast uninterrupted GDP growth for almost three decades.
New normal or abnormal
We certainly will not be going back to our pre-pandemic habits until a vaccine is produced and released into the masses. "The return to full normality will only occur when the pandemic disappears" – said Minister Szumowski. The pandemic affects individuals, social groups and entire nations in very diverse ways and differently for companies – from individual ownership to transnational. The world will look differently post-crisis, and all entities will have to adapt in their own way. Although the crisis has no particular scheme and each nation is affected differently, there are some common features – apart from the fact that it is difficult to predict the essentials, we also know that, it generates new opportunities.
Author: dr hab. Eliza Przeździecka, Head of Economic Research, AmCham
Contact: [email protected]