2 września 2021
Categories: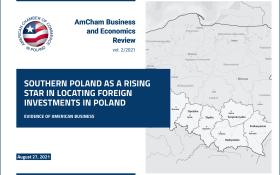 AmCham Business and Economics Review, vol. 2/2021
For the last three decades, the Polish market attracted a total foreign capital value equal to 40% of domestic GDP. The regional development and industrialization strategies have depended highly on investments and the creation of high value-added employment. Thanks to these efforts and strong potential in manufacturing, the whole country and particular regions can increase their participation in global value chains and improve their positions in terms of value creation.
One of the regions on the way to dynamic changes in terms of the structure of their industries and increasing the share of knowledge-based services is the southern part of our country, including the Podkarpackie (Subcarpathian), Małopolskie (Lesser Poland), Śląskie (Silesian), Opolskie, Dolnośląskie (Lower Silesian), and Świętokrzyskie Voivodeships.
Traditionally the largest number of industrial districts was created as a result of industrial policy implemented within the last century. The policy was based on heavy industries such as metallurgy and the chemical industry related to oil extraction. In the second half of the twentieth century, the main emphasis was placed on the further development of heavy industries specialization in manufacturing, as well as coal mining.
Industrial manufacturers were forced to improve their productivity and efficiency and imply market approach strategies when the market economy was introduced. The wave of transformation has resulted in privatization and a rising number of foreign-owned firms which started to develop their businesses based on formerly existing ineffectively utilized resources, industrial premises, and infrastructure.
Today, we are faced with the gradual technological upgrading of international production networks and the growing role of the South in attracting US investors to Poland.
US-owned firms hold assets in industrial manufacturing with locations throughout the country. Although one-fifth of the assets in manufacturing are in Warsaw, other important locations of industrial manufacturing are in the following voivodships: Podkarpackie (Subcarpathian), Małopolskie (Lesser Poland), and Śląskie (Silesian) (altogether 41%). Together with Dolnośląskie (Lower Silesian), three voivodeships reach nearly half of US firms' assets in industrial manufacturing.
In addition to investors in industrial manufacturing, companies in the business services sector also show growing interest in the region. The results of a survey conducted in 2020 by ABSL indicate that the entities in Poland's modern business services sector are significantly more numerous in the southern part than in the northern part of the country (ABSL, 2020). The major sourcing country of investors in that area is the United States.
The region is more attractive than the entire country
Spectacular increases in US investment activity have occurred in the south of Po- land over the past decade. Their investment value has nearly doubled since 2010, but employment has grown by 174%.
In 2010-2019, the region's importance as a location for American investments in Poland increased. In 2019, there were 332 US-owned companies operating in the region, which created 38% (34% in 2010) of the total number of jobs by American companies in Poland and holds nearly a third of the value of the total assets belonging to US businesses in Poland (24% in 2010).
The largest share in job creation in the region has companies located in the Małopolska (Lesser Poland) Region (nearly 34 thousand jobs). Subsequently, high employment is also found in Śląskie (Silesian) (27 thousand jobs) and Dolnoślaskie (Lower Silesian) (25 thousand jobs). These are the main locations of American investments in southern Poland, US companies operating in the three mentioned voivodeships creating almost 80% of employment in the entire region.
Geographic distribution of new investment projects
The above-mentioned geographical distribution of employment has recently been confirmed by the map of locations of new investment projects. It shows three dominant locations – Dolnośląskie (Lower Silesian), Śląskie (Silesian), and Małopolskie (Lesser Poland). Kraków and the Małopolskie (Lesser Poland) Voivodeship has recently attracted the most US investors. One project regarded manufacturing as well as R&D, two concerned IT and shared services, and two other investment projects were in R&D.
Major Agglomerations in the Region
WROCŁAW and the Dolnośląskie (Lower Silesian) Voivodeship
Wrocław was named the future city for 2021-2022, ranking in the top 25 'Global Cities of the Future' by the fDi Intelligence agency. At first glance, the city is ranked so highly due to cost-effectiveness and business friendliness. However, it is not the end of local advantages. Wrocław is a leading economic and technology center in Poland. Its central location in Europe enables convenient access to the major European cities offering direct flights to 40 destinations.
There are over 1.2 million inhabitants in the Wrocław metropolitan area. The city has a strong academic center with a multi-area of education run by the University of Wrocław, Wrocław University of Science and Technology, Wrocław University of Economics and Business, Wrocław University of Environmental and Life Sciences. Numerous universities and research institutions made Wrocław the most popular location in Poland in R&D centers and Knowledge Process Outsourcing. According to ABSL data, an extensive pool of companies in the business services sector employs nearly 52,000 people in Wrocław (ABSL, 2020).
The entire Dolnośląskie (Lower Silesian) Voivodeship reached second place in 2016 when it comes to investor attraction. Although the leading position belonged to the Śląskie (Silesian) Voivodeship as the most attractive for foreign investments in Poland, the Dolnośląskie (Lower Silesian) has the most significant number of subzones that are in 33% of the communes in the Voivodeship. The most attractive voivodeships of the ranking are characterized by absorptive markets, a high level of development of human capital, and relatively high expenditure on innovative activity (Walkiewicz, 2017).
Other research argues additional factors such as availability of well-qualified and low-cost workforce, tax incentives offered by SEZs as well as satisfactory communication accessibility that attract foreign investors to the region (Kiba-Janiak, Kołakowski, 2015).
In total, there are nearly 100 US-owned entities, which employ nearly 25 thousand people in their entities located in the Dolnośląskie (Lower Silesian) Voivodeship. Despite that, US-owned firms have recently been expanding their businesses in industrial manufacturing (see fig. 4), over 10.5 thousand jobs concern knowledge-intensive processes. There are many business service centers located in this region, especially in the area of SSC, IT, and R&D: 3M Company, Advent International Corp, Oaktree Capital Group Holdings, Koch Industries Inc., AbbVie Inc., Dolby Dagmar Family, Mondelez, International Business Machines Corp, Bank of New York Mellon Corporation, and Hewlett Packard Enterprise Company. Some of the companies, such as 3M and Mondelez, conduct research and develop new products for their factories worldwide.
Over the last two decades, the 3M Company has located its largest and strategic investments in Europe to Wrocław, namely the 3M SuperHub production center, the 3M Global Service Center Poland, and the 3M Research and Development Center. Today, over 4,000 employees work at 3M in Wrocław. The 3M Super Hub is one of the largest and fastest-growing 3M manufacturing centers in the world. More than 12 thousand innovative products for customers in the medical, aerospace, automotive, food, and electrical industries are produced here. 3M Global Service Center Poland supports more than 70 entities in the 3M group in the areas of financial processes, analytics, marketing, strategy, IT operations, and applications, incl. design, architecture, innovative business solutions, security, automation, robotics.
The manufacturing corporation Cargill has been operating a factory in Bielany Wrocławskie since 1996. In 2021, another investment worth USD 45 million was announced at this location. The launch of the first products is expected in the second half of 2022. The goods produced will be soluble fibers, allowing for a 30% reduction in sugar content in various products. Cargill is one of the largest producers of glucose syrups and glucose-fructose syrups on the Polish market. It is also one of the largest American companies operating in Poland (no. 4 on the list of American companies by revenue value).
IBM Security opened its modernized European IBM X-Force Command Center based in Wrocław in 2017. The center has new cognitive capabilities, including IBM Watson for Cybersecurity and expanded data localization services designed to help address clients' preferences and GDPR requirements. The center joined the global network of IBM X-Force Command Centers, which processes more than one trillion cyber incidents each month, protecting 4,500 clients in 133 countries. This global network is staffed by over 1,400 security professionals who provide around-the-clock service to clients.
PepsiCo, food producer operating in Poland for the last three decades, is building its new facility in Święte, in the Legnica Special Economic Zone. The investment, worth over PLN 1 billion, will be implemented in stages until 2025, providing additional production capacity in snack manufacturing. This is the fifth production plant located in our country. The new factory will deliver products to the Polish market and for export, mainly to Germany, Czech Republic, Slovakia, and Hungary.
Top 5 US corporations in the Dolnośląskie (Lower Silesian) Voivodeship by Assets:
3M Company

Autoliv, Inc.

American Axle & Manufacturing Holdings, Inc.

PPG Industries, Inc.

AbbVie, Inc.
Top 5 US corporations in Dolnośląskie (Lower Silesian) Voivodeship by Employment:
IBM Corp

Autoliv, Inc.

3M Company

Bank of New York Mellon Corporation

Greenbrier Companies, Inc. (Wagony Świdnica)
KRAKÓW and the Małopolskie (Lesser Poland) Voivodeship
Kraków, being no. 20 on the list of Top100 Super Cities 2021 by Tholons holds the highest position among Polish cities. According to Statistics Poland (GUS) data, nearly 800,000 people were living in the city of Kraków at the end of 2019, 60% of whom are of working age, and almost one-third work in IT or professional, scientific, and technical services. Moreover, about 130 thousand students are studying at 21 higher education institutions in Kraków. Business and administration majors are studied by more than 20 thousand, and engineering majors by 12 thousand, which place the city in the first position in numbers of graduates in engineering in Poland. All universities in Kraków deliver 40 thousand graduates to the job market annually.
An immense pool of highly skilled labor attracts foreign capital to the city. Kraków has become a key location for global companies – in 2014-2019, Kraków's top sector for FDI was software and IT services. A diversity of industries characterizes Kraków's IT market, but the authors noted a high concentration of companies from the financial innovation fintech, enterprise applications, and network solutions sectors (Kraków IT Market Report, 2021). According to the data presented, at least ten new IT players open branches in Kraków every year, with most companies in 2020 belonging to the fintech sector.
Kraków, next to Warsaw, is the most important office market in Poland and one of the best locations in Europe for investments in the modern business services sector. In 2019, 159,000 square meters of office space were delivered, and currently, 227,000 square meters of office space are under construction. Generally, more than half of the offered office space has been built in the last five years.
Kraków for years has been the leader in terms of employment in business service centers in Poland. Over 90 countries are served from Kraków in 34 languages. In 2020, 234 business service centers operated in Kraków – most of them related to the SSC/ BPO industry. In the same year, nearly 78 thousand people worked in this industry (23% share in the total employment in this industry). American corporations have their centers here, e.g., AON, Brown Brothers Harriman, Jacobs, Ecolab Services, IBM, International Paper, Philip Morris, State Street Bank International, UBS, and Motorola.
AmCham estimates that total employment in U.S. knowledge-based services companies exceeds 13,000.
Apptio has recently announced the launch of a Product Innovation Center in Kraków. This Center is designed to attract the most diverse and high-caliber technology talent in software development, product design, and product strategy. Apptio has more than 18 offices in North America, EMEA, and APAC and a highly engaged remote workforce. The company admires Poland's emerging as one of Europe's leading software development hubs. However, the corporate representatives highlight that Kraków is now the heart of the vital circulation of competencies and capacities in innovation based on a skilled workforce.
Can-Pack is the most significant American investment in Małopolska (Lesser Poland) and, at the same time, the largest manufacturer in the domestic metal industry. The factory in Poland was one of the first investments of Giorgi Global, a corporation owned by an American billionaire Peter Giorgi. but so far absent from the American market. The company operates in 19 countries in Europe, South America, India, the Middle East, and Africa. It employs nearly 8,000 people in its 28 production plants. The company manufactures metal packaging, including primarily aluminum beverage cans for carbonated beverages, bottle caps, tin cans, aerosol packaging, and glass packaging. In mid-2020, Can-Pack joined a group of companies from Poland investing in the United States. Can-Pack's first investment project was a factory in Olyphant, Pennsylvania, in 2020. The corporation has recently announced a second investment on the American market next year in Indiana. The value of both investments is estimated at over USD 700 million.
InPost, a leader among European e-commerce delivery platforms, due to the rapid growth of the parcel post network in Poland and Europe, is building a new factory and will develop a research and development center. The factory will be built within the newly created Kraków Airport City Logistics Park, will occupy a total of 7,230 sq. meters, and will be equipped with photovoltaic panels. It will be put into operation in autumn 2021. In addition to the production of parcel posts, including the electromechanical assembly of touch screen modules, a research and development center with two laboratories and a showroom will be expanded at the premises. Development work will be carried out there, as well as tests of new solutions.
Top 5 US investors in the Małopolskie (Lesser Poland) Voivodeship by Assets:
1. Giorgi Global (Can-Pack)
2. Philip Morris International, Inc.
3. Advent International Corp (InPost)
4. Arrow Electronics, Inc.
5. DXC Technology Company (Luxoft)
Top 5 US investors in the Małopolskie (Lesser Poland) Voivodeship by Employment:
1. Advent International Corp (InPost)
2. Philip Morris International, Inc.
3. Giorgi Global (Can-Pack)
4. Motorola Solutions, Inc.
5. IBM Corp
KATOWICE and the Śląskie (Silesian) Voivodship
The Śląskie (Silesian) Voivodeship belongs to the most industrialized and urbanized areas in Central and Eastern Europe. The Katowice agglomeration is the largest in this part of Europe. It has a well-developed transport network, which creates an advantageous communication infrastructure in the intersection of two main communication routes – the A1 and A4 highways, a network of railroad connections – the so-called Linia Hutnicza Szerokotorowa. In addition, the International Airport Katowice-Pyrzowice provides domestic and international flights and is supported by two other international airports within a short distance: Kraków and Ostrava. The region's great advantage is its proximity to the Czech and Slovak borders, which supports cross-border cooperation. Furthermore, the region is one of the leading energy producers in the country. The Śląskie (Silesian) Voivodeship is ranked second in the country in terms of the generated gross domestic product, more than 12% of GDP.
The entire region of Silesia is characterized by the highest urban population rate (about 77%), and at the same time, the highest population density in Poland. The region is inhabited by more than 4.5 million people, creating a huge potential for consumption and market absorption, as well as extensive resources of human capital. The Katowice agglomeration is characterized by 145 thousand students in the Śląskie (Silesian) Voivodeship in 45 higher education institutions of various profiles, including the University of Silesia in Katowice, the Silesian University of the University of Economics in Katowice, and many others. It is the second scientific center in Poland (after Warsaw) with more than 80 scientific and R&D institutes.
The region has a strongly developed industry, developed investment areas, high-quality technical infrastructure, as well as highly qualified personnel, and diversified scientific and research facilities are the main advantages of the Śląskie (Silesian) Voivodeship that attract investors.
Almost 500 thousand business entities operate in the region. As far as foreign investments are concerned, the Śląskie (Silesian) Voivodship has 11.2% of foreign investments located in our country. Moreover, it is the second region in the country regarding the number of prominent foreign investors.
The region has recently entered the so-called era of Industry 4.0, based, among others, on skilled employees, automation, digitalization, and the latest technologies. It becomes the center of interest for investors starting their business in Poland, such Hyland in Katowice, or Weber-Stephens in Zabrze, among American investors.
According to the greenfield investment monitor fDi Market, new projects in industrial manufacturing (incl. EVs), business services, and logistics will bring Katowice and the Silesia region in particular back as an attractive emerging market as it was before the pandemic.
Concerning business services, more than 100 centers employ nearly 22,000 workers, predominantly shared services centers and IT centers – more than half of employment. It is significant that in the employment structure in business service centers, foreign entities prevail, which proves the high attractiveness of the region for foreign capital, particularly American.
Top 5 US corporations in the Śląskie (Silesian) Voivodeship by assets:
1. Tenneco, Inc.
2. Commercial Metals
3. Guardian Glass LLC
4. Lear Corp
5. PPG Industries, Inc.
Top 5 US corporations in the Śląskie (Silesian) Voivodeship by Employment:
1. Lear Corp
2. Tenneco, Inc.
3. Cooper-Standard Holdings, Inc.
4. Commercial Metals
5. The Timken Company
Trends and further prospects
The world is changing, as is the regional economic specialization too. Long-term trends of economic growth indicate that Poland went on the path of industrial development. A recession in the economy could stop that for a while. However, the latest GUS data on the astonishing GDP growth (11% in Q2 year-by-year) shows that the crisis could also be a catalyst for a process of structural transformation forced by the policy shift towards sustainable development, economic nationalism, and the configuration of international production which shorten value chains. Moreover, the current pandemic intensifies the demand for knowledge-intensive processes, including IT services. It ranks Poland as the next tech unicorn. The available skill and dynamism of the labor market in regional development in the South have consolidated the country's ability to exploit innovations driven by digitization.
Poland had reached the podium in the fDi Magazine ranking of the FDI locations despite the ongoing COVID-19 pandemic. Thus, the biggest challenge for the future is to stay on this podium and meet the needs of foreign investors, who, most often in the process of long-term strategic decisions about the location of capital, turn their attention closer to the region rather than the entire country.
References and database
ABSL, Sektor nowoczesnych usług biznesowych w Polsce 2020, https://absl.pl/storage/app/ uploads/public/5ee/887/8d5/5ee8878d59858995982318.pdf (access: August 3, 2021).
AmCham database.
Kiba-Janiak M., Kołakowski T., 2015, Dynamika i kierunki rozwoju inwestycji firm japońskich w województwie dolnośląskim, Prace Naukowe Uniwersytetu Ekonomicznego we Wrocławiu, no. 393, pp. 120-132.
MOTIFE, ASPIRE, Kraków IT Market Report, 2021, https://motifedigital.com/get-report-motife-aspire/ (access: August 8, 2021).
UCTAD, World Investment Report 2020. International Production Beyond the Pandemic, https://unctad.org/webflyer/world-investment-report-2020 (access: August 2, 2021).
Walkiewicz D., 2017, Atrakcyjność regionów a lokalizacja specjalnych stref ekonomicznych, Prace Naukowe Uniwersytetu Ekonomicznego we Wrocławiu, no. 467.