22 kwietnia 2021
Category:

Community News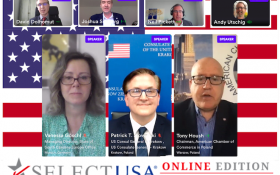 On April 22, the U.S. Embassy in Poland, Council of American States in Europe, and the American Investor Desk at AmCham Poland had the pleasure to coordinate with our counterparts this year's online SelectUSA "Demystifying Investment in the USA: Steps for Success" event on the Airmeet platform.
The session opened with welcome remarks by Vanessa Göschl, Managing Director – State of South Carolina Europe Office & CASE Vice-Chair; Patrick Slowinski, Consul General at the U.S. Consulate Krakow; and Tony Housh, Chairman at the American Chamber of Commerce in Poland.
Following the welcome remarks, David Dolhomut, Project Manager at the American Chamber of Commerce in Poland, spoke about the role of the AmCham's American Investor Desk, such as the problems we help solve, with which stakeholders we cooperate, and the types of events we organize throughout the year for Polish entrepreneurs interested in expanding to the United States.
Afterward, Joshua Seeberg, Director-European Representative Office-Kentucky Cabinet for Economic Development, spoke on how CASE assists companies interested in the U.S. market. He strongly encouraged that all interested parties begin by writing a business plan, choose a regional focus as the U.S. is a vast and diverse country, and coordinate a general idea on their projects' size and scope and make sure they understand the project needs and requirements.
After CASE's introduction, the event was followed by Neil Pickett, Deputy Senior Commercial Officer, U.S. Embassy, Warsaw, who spoke out about SelectUSA and the Virtual SelectUSA Summit in Washington D.C., which will be held June 6-9, 2021, in Washington, D.C., where it was encouraged for participants to sign up as excellent information will be distributed during this event. Neil emphasized that he doesn't want to push any company to come to the U.S. to fail and wants to assist companies feeling comfortable with their expansion into such a dynamic market as the United States with its diverse culture within all 50 states and U.S. territories.
Finally, our keynote speaker was Andy Utschig, Deputy Consular Chief, U.S. Embassy, Warsaw, who discussed investor visas and recent U.S. travel policy developments. He covered briefly the E1 Trader Visas, where a business must have a meaningful exchange of goods, money, or services. He then stepped into E2 Investor Visas, which are for investors who have invested or are actively in the process of investing in the United States. Finally, the moment all participants were waiting for was the discussion about the National Interest Exception (NIE), where a presidential proclamation restricts travel from the Schengen Zone to the United States due to the COVID-19 pandemic, but where for business travel a "National Interest Exception" can be requested when the travel provides vital support for critical infrastructure within the U.S. borders.
The event was then concluded with a virtual networking session where all participating members had access to labeled tables to whom they wanted to approach for further questions on visa or NIE related questions, SelectUSA in Washington D.C., CASE member states, and other non-CASE member states and territories such as the territory of Puerto Rico.