19 maja 2022
Category:

Community News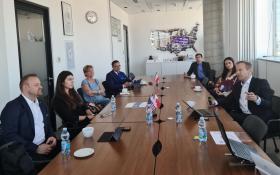 On Thursday, May 19, AmCham's Digital Tech Committee had a meeting entitled Rethinking cybersecurity, how to prepare for its future? Our presenter Artur Józefiak, Managing Director – Accenture Security Lead for Poland/CEE & Digital Identity Offering Lead for Europe, informed our guests on the challenges and risks associated with cybersecurity across various sectors.
During the meeting, Artur explained what has been happening in cyberspace after three months of war in Ukraine, Key observations & recent trends, Cyber resilience of the Polish digital economy, and possible scenarios of what can happen next.
The key takeaway from this meeting was that companies should follow these steps. One should be proactive and not reactive when it comes to cybersecurity. Companies should not wait until a crisis arises to suddenly invest in cybersecurity to counter a current threat to a company's system. However, if things worsen, we should treat cybersecurity like medicine. What are your cyber symptoms (holes in your system, vulnerabilities), and can you detect the source of the cyber-disease (computer virus, spyware, ransomware, etc.)? Were you targeted locally or by international intruders. If things are bad for your company at this stage, a trend can be seen in the sector, and various companies in the industry get targeted where can they go and inform of this threat (i.e., governmental agency).
All in all, one should decide if they want to have a homegrown cyber-system or have it outsourced where both are for your interpretation, and not everything needs to be grown at home, such as military equipment, which gets purchased as an example. The closing remark is that to avoid going through the unpleasant steps, one is best to invest in cybersecurity before a crisis.