4 października 2020
Category:

Business & Economics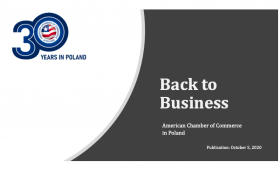 According to the results based on the responses of our member companies, we were able to determine to what extent businesses have returned to their daily activities, what the changes in employment were and whether companies have benefited from the government assistance program "Anti-Crisis Shield". There have also been observations about whether work efficiency has changed.
Based on the answers received, we can draw the following conclusions:
Companies remain in a home-office or an alternate shift work environment for office staff in the service sector as well as manufacturing.

Manufacturing workers are already back on factory floors.

Most respondents have declared that employment has been unchanged compared to pre-pandemic levels.

Efficiency improvement has been noted in up to ¼ of office staff.

The vast majority of respondents have declared that they were not beneficiaries of the Anti-Crisis Shield.

The Coronavirus has created new work models in all groups of workers, which makes it difficult to define the level of office space occupancy.