30 stycznia 2022
Category:

Community News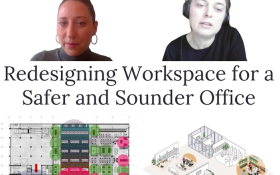 On Thursday, January 27, AmCham organized a meeting for our member companies which had as topic 'redesigning workspace for a safer and sounder office.' Our guest speakers were Ilinca Popescu, Steelcase Sales Director Central, Eastern & Northern Europe, and Iwona Pasik, CBRE, Associate Director, Leading Interior Design, Architect IARP with Dominika Fox-Matulewicz, AmCham Executive Director moderating the meeting.
Iwona Pasik spoke about the new trends in office design where she recommended that when we look at the future of hybrid work, it is crucial to involve your employees and teams in the conversation, such as office redesign for a more functional, collaborative, and safe working environment as well as communicate new workplace policies and the investment in the right technology. The pandemic has opened up a door that started as a perk pre-pandemic, which employees now expect. Employees value flexibility and the ability to more freely balance their professional and personal lives, have the digital infrastructure available for the staff, and have a widespread agreement among employees on the different kinds of work that need to be completed in various spaces. However, when looking at the office redesign, ensure you make the environment comfortable mentally by developing a green design such as having plants as one example was stated, have a sustainable and home comfort design, ensure the company invests in the right technology, make room for collaboration in the office, and have flexible spaces.
Ilinca Popescu covered prototyping the future of work, explaining the various types of people and their expectations. Some people like routine and structure and separate work and home spaces, some people are driven by collaboration, others have competing responsibilities having the flexibility to choose between home and the office, some like the autonomy of staying home and are not at all interested in returning to the office and feel are more productive at home. Some people just don't feel safe and rather stay home for physical or psychological reasons that do not necessarily come from the pandemic. Another way of looking at people's needs is based on the diversity of isolated zoomers who think that the home office is a lonely cage. The frustrated creative networker thinks the home office is freedom, you have the overworked caretaker who feels like the home office is a suspension from ordinary life and work, you have the autonomy seeker​ who thinks that home office is a nonstop flow of competing demands, and the relieved self-preservationist​ who believes the home office is the only place they feel safe.
Both speakers mentioned that the workplace needs to be safe and feel safe for all employees. There needs to be a sense of belonging, inclusion, trust, and shared purpose. The work area has to be tailored to the various types of personalities for people to be productive, from people who need quiet zones to focus better to people who need louder collaboration areas. The workspace needs to feel comfortable physically, mentally, and emotionally. Finally, the most important is for employees to feel in control over where they work depending on the tasks required to be complete either through collaboration at the office or online with quiet space in the office, or any other reason for choosing the office or home as their working comfort zone to increase productivity for people from all personalities.