27 października 2020
Categories: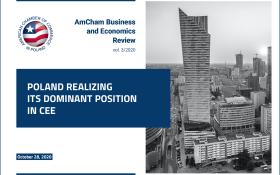 AmCham Business and Economics Review, vol. 3/2020
Poland possesses a dominant position in the Central and Eastern European region being a hub of manufacturing operations, distribution, logistics, and business support service activities as well as coordinating those processes in the entire region. The country uses its potential for exceptional assets, partly engendered by foreign corporations, to create prosperity and generate value-added. As a leading player in the market, it has a significant impact on CEE regional economic development.
Currently, the countries of Central and Eastern Europe produce together USD 1.9 trillion (2018), which corresponds to the size of the 9th largest economy in the world. Since 1996, the CEE region's GDP per capita has increased on average by 121%. At the same time, the average growth of the economies of the Euro-zone was only 31%. Central and Eastern Europe has become one of the most attractive places to invest in the world, it has narrowed the economic gap to Western Europe and has contributed to a significant improvement in local living standards. Foreign investors in the markets of all countries in this region are very important players in each CEE country's economy.
Among the countries of the Central and Eastern European region, Poland has for years been distinguished by a large inflow of foreign capital. The average annual growth rate of the value of invested capital in Poland over the last 15 years was about 7%, and in the whole region, it was about 5%. Data from the National Bank of Poland indicate that at the end of 2019 the value of foreign direct investments exceeded USD 281.3 billion, which is 24.5% of the capital invested by foreign companies in this region of Europe, according to UNCTAD.
Figure 1. Foreign direct investments in CEE countries as a percentage share of total FDI in the region, 2019
Source: own elaboration based on UNCTAD data.
For years, our country has been distinguished by its high position in various rankings evaluating investment attractiveness. In the World Bank's "Doing Business ranking", Poland is ranked 40th, which is a high position compared to other Central and Eastern European countries, as only Estonia (18), Latvia (19), and Slovenia (37) are ahead. It is similar in the Global Competitiveness Report, where Poland is currently ranked 37 behind only Estonia (31), the Czech Republic (32), and Slovenia (35).
Attractions of Poland