3 listopada 2021
Category:

Community News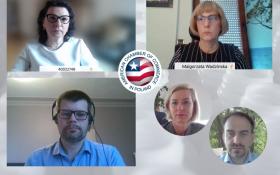 On October 26, the AmCham Sustainability Committee organized a meeting on sustainable packaging entitled On the way to sustainable packaging – how we enable to close the loop. The goal of the meeting was to present companies' critical areas of focus to address sustainability challenges in plastic packaging across the value chain, present success stories, and exchange experiences and knowledge.
We have started with Pierre Conrath, Business Development Manager Circular Polymers, ExxonMobil Chemical, statement that advanced recycling is a solution for plastic waste. For best practices, Pierre described ExxonMobil's investment in its first large-scale plastic waste advanced recycling facility in Baytown, Texas. This advanced recycling operation will be among the largest in North America. By recycling plastic waste back into raw materials that can be used to make plastic and other valuable products, the technology will help address the challenge of plastic waste in the environment.
Following on,
Małgorzata Skonieczna, Public Policy/Government Affairs & Communications Director, Central Europe, PepsiCo Consulting, spoke about some factors necessary for the circular economy – they can be described as reducing – recycling- reinvent and reuse.
Our last speaker was Małgorzata Wadzińska, Senior Director of Government Relations, Central Europe and EU Policy, Procter & Gamble. Małgorzata cited Frans Timmermans, Executive Vice President for Climate Policy opinion that "The best rubbish is rubbish you don't have." She mentioned four approaches that are a must for a company nowadays – they are the power of innovation that enables sustainable lifestyles and drive positive impacts, reducing our footprint for circular solutions, creating transformative partnerships, and what is critical is to inspire and encourage employees to bring sustainability into their work and communities.
Answering the question from the audience, what would be the priority for successful sustainable packaging for value chain players, Małgorzata Skonieczna concluded that understanding and sharing the same goals seem to be essential. As Małgorzata said, we compete, but we need to unite for the common purpose.
We thank Emilia Wasilewicz, Dow Poland Country Leader and the Co-Chair of the AmCham Sustainability Committee, for moderating this discussion.