22 września 2022
Category:

Community News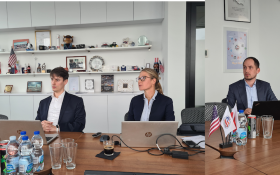 On Thursday, September 22, AmCham's Digital Tech & Economy Committees had a meeting entitled Omnibus Directive: modernizing consumer protection rules in the EU. Our presenters were Agnieszka Zwierzyńska, Advocate with Michał Pietrzyk, Attorney-at-law from Łaszczuk i Wspólnicy, as well as Wojciech Janik, Attorney-at-law, Managing Associate at Deloitte Legal.
During the meeting, our guests covered various topics which will affect businesses as the law gets stricter in protecting consumers when shopping in Poland. The directive will affect how price reductions are communicated to customers, online product reviews forcing the business to disclose if they have verified their consumer reviews to avoid unfair market practices and a ban on differentiating product quality. From the moment this directive turns into law in Poland, commercial practices will have to change in many shapes and forms.
Our speakers have suggested to our attendants to be careful when the directive comes into force, as it is hard to predict at the start how strict the Office of Competition and Consumer Protection will be in regard to the changes, and it is better to be on the safe side rather than being sorry when hit with huge fines. It is best to do things smartly and honestly, then to try to find loopholes that can negatively affect your business later.
All in all, avoid unfair practices such as paying for likes, ensure that you know the 30-day pricing rules, and plan your discounts accordingly for consumers to be fully aware of what they are buying and at what price and understand the differences between goods and services on the market for a long time, how it doesn't affect perishable goods and its effect on newly placed products.