20 stycznia 2022
Categories: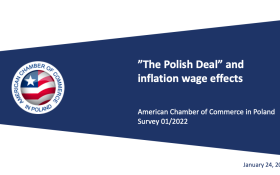 Inflation and tax reform introduced by the "Polish Deal" have become the number one topic in many companies. At the same time, the shortages in the labor market result in pressure on the wage growth increase.
The American Chamber of Commerce in Poland conducted a survey among its members on their plans to create new jobs and mitigate the effects of price and tax increases in the context of employee wages.
American companies confirmed in their responses the long-term development trend in Poland, where most of them indicated that they intend to increase employment in the coming year. In turn, when it comes to the negative effects of inflation and tax reforms for employees, one-third of the surveyed companies announced measures to be taken to mitigate the decline in real wages. Most of these enterprises announce wage increases, and the declare average increase in the surveyed companies will amount to 10%. At the same time, the respondents emphasize that salary changes will depend on the type of positions and the value of salaries that would be raised. It is also worth noting that there is a group of enterprises (8% of respondents) that take into account the change of the form of employment for some of their employees. These may be mandate contracts, specific contracts and business-to-business contracts.
The survey results also showed that companies that currently do not take any action related to employee remuneration observe both the entire labor market and other enterprises and their remuneration policy.
"Apart from the answers to the questions, the surveyed companies provided us with many opinions and comments, in which they mentioned the need for a longer vacatio legis with such significant changes implemented to the tax system. This would allow both for better preparation of payroll systems, as well as for proper familiarization with the introduced regulations by both employees and employers. " – said Dominika Fox-Matulewicz, Executive Director of the American Chamber of Commerce in Poland.
View Mitigation of 'Polish Deal' Wage Effects survey results HERE