21 marca 2022
Category:

Community News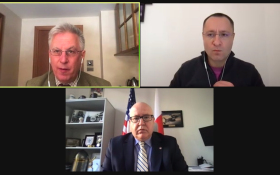 AmCham Poland, jointly with CEC Group, hosted an online meeting with Mr. Vasyl Myroshnychenko, Advisor to the Minister of Defense of Ukraine.
Mr. Myroshnychenko has given us a detailed high-level picture of what is currently occurring in Ukraine and how the Ukrainian people have faced Russian aggression.
Firstly, the guest speaker stressed a high need for military supplies and defense systems in the central and eastern parts of the country. There are cities of high strategic significance, such as Mariupol, which is located on the most critical riverine transport route in central Russia and is one of the major ports of the Sea of Azov. Other cities under heavy fire include Suma, Kharkiv, Chernihiv, listing just a few. Nevertheless, the entire country is under missile attacks.
Over 4 million Ukrainian citizens have left the country during the last weeks, and 2 million entered Poland. "This refugee crisis is a huge historical event," – said Mr. Marek Matraszek, CEC Group, who co-chaired the meeting. Mr. Myroshnychenko added that more and more people are still willing to leave the country. In his opinion, this number is expected to rise even to 10 million if more UA territory is occupied.
Therefore, there is a need not only for a humanitarian aid organization in the form of food, medicine, or, in some places, even water but also for internationally coordinated action to create humanitarian corridors. With this respect, Mr. Myroshnychenko has emphasized the vital role of countries' initiatives and international organizations, such as OSCE.
As for the future, our guest drew attention to several issues, both from the country's internal affairs and international cooperation. Firstly, there is a concern about how much plant is harvested. It is expected that the cultivated area will be significantly reduced – even by 70%. As a result, the production capacity in the agri-sector will drop substantially. The export of agricultural products may decrease by up to 60% due to the production shortage and blockade of the sea route. That may have long-term effects on food supply in the mid-eastern and African countries, which are heavily dependent on imports from Ukraine.