23 czerwca 2020
Category:

Community News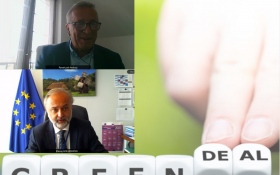 A successful transformation of the Polish economy to a carbon neutral one by 2050 has to be done with caution as Poland wants to stay competitive towards other, much less carbon-sensitive economies in other countries, said Michał Kurtyka, Minister of Climate, who took part in a video meeting held by AmCham in June.
The meeting was held jointly with McKinsey Poland, following the publication of a McKinsey report entitled "Carbon-neutral Poland 2050. Turning a challenge into an opportunity." The insights of the report were presented by Marcin Purta, Managing Partner, McKinsey Poland, and Gustaw Szarek, Associate Partner at McKinsey's Warsaw Office. Tony Housh, AmCham Chairman, led the discussion.
According to the McKinsey report, achieving climate neutrality by 2050 is within Poland's grasp, but it will be a significant challenge. Thanks to decarbonization at a potential extra cost of EUR 380 billion, the country could improve its energy independence and reduce operational costs by around EUR 75 billion. Decarbonization could also contribute to the development of new economic sectors and create as many as 300,000 jobs.
Today, the main generators of carbon emissions are power and heating (responsible for generating 38 percent of all emissions), heavy industry (22 percent), transportation (15 percent), buildings (11 percent), and agriculture (11 percent). All other producers of carbon dioxide emissions contribute 3 percent. All those sectors have to cut their emissions, but the actions that need to be taken have to include cost factors as well.
Minister Kurtyka noted that in order to succeed, the transformation needs to be get a strong public support in Poland. The momentum is growing as more and more people understand the issues involved in tackling carbon emissions. Nevertheless, reaching ambitious ecological targets will be tough as it will impact consumers.
Minister Kurtyka said that Poland has tapped in a number of funds available from the European Union for upgrading power infrastructure and others. Poland will also use parts of the Covid-19 recovery fund from the EU to improve its economy in carbon-related areas.
The minister also said that Poland has been making an increasingly efficient use of photovoltaic as well as wind energy sources, and is interested in developing nuclear power with international partners.