23 lutego 2021
Category:

Community News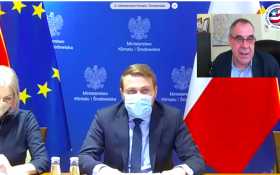 On February 23, the AmCham Industry & Energy Committee organized a meeting with Mr. Jacek Ozdoba, Secretary of State at the Ministry of Climate & Environment. The meeting's goal was to convey a set of priority issues to our guest speaker and discuss how AmCham could help the Ministry introduce these changes.
We have discussed how to rationalize excessive regulatory burdens in the environmental and waste management branches, like the obligation of the visual control system of waste storage areas or waste deposition, improving the functionality of the database of products and packages, or shortening administrative proceedings for issuing permits in the investment process. Creating real incentives for enterprises who act in light of the circular economy and maintaining a dialogue with business seems to be a must in reducing waste and making our economy more competitive.
Minister Ozdoba stays open for future cooperation with businesses and encourages AmCham to be engaged in the working group discussion at the Ministry of Climate & Environment to follow up with some issues mentioned at today's meeting.