29 czerwca 2021
Category:

Community News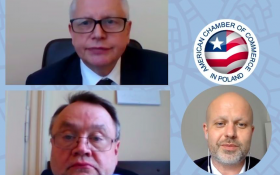 On Tuesday, June 29 AmCham Members met Deputy Mayors of Kraków Mr. Andrzej Kulig and Mr. Jerzy Muzyk. This time, an online formula replaced live meetings and updates organized regularly in Kraków for the AmCham community.
The meeting was opened by a brief presentation of Prof. Eliza Przezdziecka, AmCham Chief Economist on the US companies in southern Poland. Selected data on existing and new investments in southern regions of Poland, with a strong focus on Krakow, were presented.
After that introduction, which become a background for the discussion on the future growth directions of Kraków, both our lead speakers presented key issues Kraków is facing along with plans for next year's and post-pandemic recovery. Strategic investment projects including Balice, Park Rzeki Wisły, Nowe Miasto and Nowa Huta Przyszłości were discussed in detail.
To answer AmCham members needs and questions, a significant part of the meeting was dedicated to discussing the rising quality of life in Kraków – a factor that plays an important role in the process of attracting new and maintaining existing investors:
– Continuation of the air quality/improvement program will now be focused not only on the heating system but also on traffic. That does not only mean limitations but also (future) incentives for drivers. Krakow cooperates with nearby towns to keep air quality improvement.
– Road investment. Post-pandemic Kraków is a different place from drivers' perspective. The trend of pushing traffic out from the city center will continue. At the same time, there is a strong focus on entry/exit roads (North & East – in progress; South-planned) and improving public transport.
– Many new leisure opportunities will appear this year in Kraków
Both. Mr. Kulig and Muzyk confirmed ongoing will to support the travel industry in Krakow.
Not all the questions sent by AmCham Members were answered. For that reason we plan to continue the discussion and problem-solving session in autumn.