26 marca 2020
Category:

Community News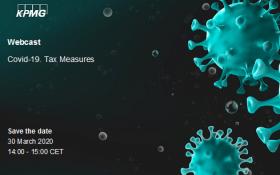 KPMG's Marcin Rudnicki, Tax Partner, Head of International Tax at KPMG in Poland and Łukasz Kupiec, Tax Assistant Manager, Tax Litigation and Controversy at KPMG in Poland will present the repertoire of existing and planned solutions presented in the "Anti-Crisis Shield" law and how which may reduce some of the negative impacts on your business.
The webcast "Covid-19 Tax Measures will take place on 30-March 2020 at 14:00 CET.
The webcast will be held in English. Participation in the webinar is free of charge, but only possible after receiving confirmation email from the organizer. We would like to inform you that the participation of KPMG's competitors in the event will not be accepted. The organizer reserves the right to select entries and to change the date or cancel the event.
For more information click here