12 stycznia 2021
Category:

Community News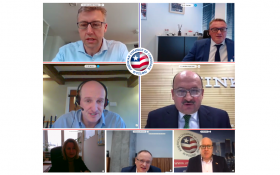 In 2021, AmCham's Monthly Meetings have returned with its first online session this year. There was a panel discussion dedicated to the role of foreign companies in the Polish economy. The speakers included representatives of the largest investors from countries that are the most crucial foreign capital sources flowing to Poland over the last 30 years.
According to AmCham's report for IGCC, there are almost 25,000 companies with foreign capital in Poland, with 2 million employees, creating every sixth job in the private sector.
The English version of the report can be found at the following link: Foreign Direct Investment in Poland
The Polish version at the following link: Zagraniczne Inwestycje Bezpośrednie w Polsce
Poland has been attracting foreign investors for many years and still is an attractive country for them. The panelists discussed the future directions of the development of foreign investments in Poland, pointing to the unprecedented importance of technology both in terms of the challenging market situation and the recovery of the economy after the pandemic.
Nick Lakin, Group Corporate Affairs Director, Kingfisher plc – the Castorama retail chain owner, which employs 12,000 workers, highlighted technology as a significant element to transform the economy, where the COVID-19 pandemic has accelerated this technological change. Then, Frédéric Faroche, President of the Board & General Director, Veolia Group in Poland, said that know-how and commitment are needed from both the communities and the private sector. This transformation is a long-term one. The role of technological progress in long-term development was also mentioned by Hans-Joachim Godau, Member of the Board, Volkswagen Poland. He said that the importance of technology from the automotive sector's perspective is crucial in electromobility, which is heavily vital to them worldwide. They want to push it in Poland as well but need funds dedicated to new technologies.
Hybrid cloud, AI is essential, but the 5G adoption is one of the most important, bringing significant investments in cloud development and functionalities in various industries making the Polish economy more competitive and effective – said Jarosław Szymczuk, Country General Manager, IBM Poland, and Baltics.
Panelists also raised an issue of cooperation with and support from local and national authorities. Mr. Lakin (Kingfisher) stressed that keeping regulations simple ensures efficiency in the country when regarding investments. Consistency, simplicity, as well as clarity, are needed to keep things smooth. In their case, greener homes are something essential to impacting society as a whole. Mr. Faroche, the Veolia representative, confirmed that his company's first partners are the municipalities due to delivering heat and power. Therefore, the company is "very local" as a business and strongly involved in the administrative process. Investment decisions can take 2-3 years to be processed administratively. For his business, it is imperative to work closely and effectively with local authorities.
Volkswagen's investment decisions are based on a global basis. Nevertheless, Poland is a strong partner, so the company looks at political stability, competency, and other factors. Mr. Godau returned to the subject of technology importance once again and said that investment in new technologies and competencies is essential in the future. The whole industry is in a transformation process – new technologies and competencies in electromobility are needed, but it won't happen if additional bureaucracy is implemented. The government helps with the transformation in these new technologies and competencies. It goes beyond just employment.
Mr. Szymczuk (IBM) emphasized the critical role of the EU in the recovery process. The acceleration of digitalization is the solution to many problems caused by the COVID-19 pandemic, but employees must transform faster to digitalization and adopt digital work models. The company looks forward to a business-friendly environment for foreigners. Predictable and friendly regulations are their second wish. Higher and secondary education tailored to industrial needs is also on the list of wishes as higher education reforms are an absolute need.
The meeting was concluded by public administration representatives – Łucja Sromecka, Deputy Director, Ministry of Development, Labor and Technology, and Grzegorz Słomkowski, Member of the Management Board, Polish Investment and Trade Agency (PAIH). Ms. Sromecka said that foreign companies are large contributors to the polish GDP. Reinvestment has become more critical for a long time in Poland. Poland's attractive investment system, such as tax exemption and cash grants, keep improving with new offers and is open to suggestions to make things more efficient. They will work on reducing bureaucracy as they understand how important it is to stay efficient. Mr. Słomkowski also highlighted the crucial role of foreign business in the Polish economy. He stressed the role of PAIH in supporting foreign investors stating that his Agency supports about 30% of FDI in Poland. PAIH's pipeline includes projects in electromobility, food processing, and many other sectoral branches. Poland needs foreign sources of capital to stay competitive as it was in the last 30 years.