17 grudnia 2020
Category:

Business & Economics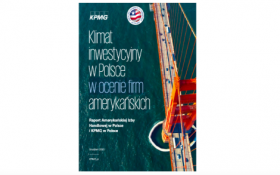 The position of U.S.-owned companies in Poland is the result of a long history of investments, and the expansion of American business in the country. The investment climate in Poland is assessed rather positively by American companies, both in terms of macroeconomic and institutional factors. American companies link their long-term plans with the Polish market by taking advantage of the competitiveness of the Polish economy and its human resources. However, the recession, rising taxes, and the quality of state institutions weaken the investment attractiveness of the country. Nevertheless, as indicated by the latest data from the market, these are not elements that discourage new overseas investors from investing in Poland. Though, it is crucial to meet the needs of businesses and to reduce the negative impact of factors weakening the investment climate in the country, which will increase the country's resistance against the crisis and strengthen its post-pandemic recovery.
The report presents the most recent development plans of American entrepreneurs in Poland through a three-year perspective with a forecast of the investment climate in the country. It is, in its own way, a barometer of future U.S. investment inflows to Poland as well as the development of overseas companies in the country. By conducting two editions of the survey (January and October 2020), we managed to capture a different perspective on business development plans – before and during the pandemic.
Download the full report HERE