30 września 2021
Categories: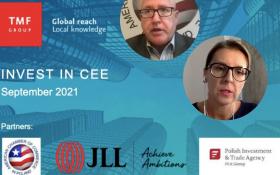 AmCham Chairman Tony Housh and Chief of Economic Research, Eliza Przeździecka, were speakers on the INVEST IN CEE webinar that took place on Thursday, September 30. An event organized jointly by AmCham, TMF, JLL and Polska Agencja Inwestycji i Handlu (PAIH).
The meeting, hosted by Monika Wójcik, TMF, was address to all the companies who consider Poland and CEE a region as the place to invest. After a welcome from Tony Housh, who also gave a general picture of the Polish economy and the U.S. investors' situation here, Eliza Przeździecka deep-dived into the data, building a complex picture of the investments in Poland.
In the next part of the meeting, Iwona Chojnowska-Haponik and Rafał Szajewski from JLL described the investment potential and attractiveness of the CEE region, taking into account different factors starting from investment incentives to labour availability.
Ondrej Mihocka, Adrian Nowak and Michał Janecki from TMF focused on rules and regulations (including taxation) specific for each country and provided many details important when considering the investment location.
Finally, Monika Kisiel briefly presented ways PAIH can support investors with their services