13 kwietnia 2022
Category:

Community News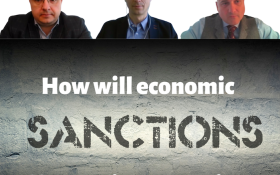 On April 13, we had an event on "How will economic sanctions affect Polish operations?" presented by experts from EY Poland and Squire Patton Boggs. Our speakers were Tomasz Dyrda, Partner, Forensic & Integrity Services, EY Poland; Jarosław Grzegorz, Associate Partner, Forensic & Integrity Services, EY Poland; and Jose Maria Vinals, Partner, Squire Patton Boggs.
As we all know, sanctions can be tricky and confusing for companies regarding freezing operations in a country sanctioned by a bloc of nations. Our speakers explained what is prohibited in particular areas such as Donetsk and Luhansk in Ukraine, restrictions on trade and media, financial sanctions, and the closure of airspace. Russian counter-sanctions have also been mentioned, such as no foreign currency transfers to accounts outside the Russian Federation and a list of foreign countries and territories taking unfriendly actions toward Russia, among many others.
Next, we know about the asymmetry of information where banks usually know more about ownership structure and Ultimate Beneficiary Owners of customers than business and are prepared to monitor and apply sanctions during routine banking operations, which pauses problems for companies who lack the knowledge on how to comply with sanctions not to get in trouble if they breach sanction terms. Businesses also risk getting in trouble if they cooperate with sanctioned entities, trade with restricted entities in specific geographic areas, as well as export certain products.
Finally, our speakers have mentioned some case studies on a company's challenges when understanding the entire sanction process. Yet, our speakers have also given our audience recommendations such as staying aware, gathering the necessary data and information, following procedures and operations, and finally knowing the business, financial and legal aspects of dealing with entities from those countries to ensure you comply with the sanctions.