12 maja 2021
Category:

Community News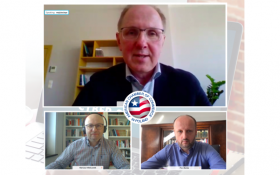 On May 11, the AmCham Digital Economy Committee organized a meeting entitled How to create a safe space of innovation through cyber-security. Our speaker was Mr. Wojciech Pawlak, Director of NASK, the national research institute whose mission is to develop and implement solutions that facilitate Poland's information and communication networks.
Our speaker described NASK's main activities the Institute is engaged in, including research on Artificial Intelligence, Big Data analysis, and critical importance projects to the country's digital transformation like Electronic Documentation Management or the Polish Education Network.
Speaking about how businesses could be engaged in proper technology management in the context of cybersecurity requirements, especially in the COVID-19 time, our guest confirmed that he and his organization are open to potential cooperation and consultation with business.