20 kwietnia 2022
Category:

Community News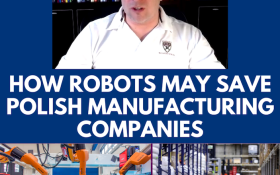 On Wednesday, April 20, the AmCham HR Committee had a meeting entitled How robots may save Polish manufacturing companies? Our guest speaker, Piotr Wiśniewski, CEO at Dbr77, spoke about digital transformation in the industry by adopting robots to the workplace.
Our speaker spoke about the vast potential of data gathering, where massive amounts of data have been gathered for years. However, our potential in processing data has not even touched the tip of the iceberg as there is so much more that can be done with the data as we implement new technologies in our companies that would allow large amounts of data to turn into valuable information.
Mr. Wiśniewski also spoke about the implementation of robots throughout the world, where it was mentioned that China is implementing such technologies at alarming rates, and Poland is not even close to implementing this sort of technology. Poland should take implementation seriously as the cost of workers keeps rising due to inflation, and the shortage of workers still has a considerable gap in the market as young people no longer want to work in manufacturing jobs that are either hard, boring or sometimes even dangerous.
When it comes to sectors, it was mentioned that for an extended period in our history, the automotive sector was the most significant sector which implemented robotization in their manufacturing processes. However, since the start of the pandemic, the automotive industry lost its lead to the electronics sector as people started driving less due to work from home, young people no longer wanting to own a car as they got used to using transport apps such as Uber, and the war in Ukraine increasing the price of petrol which also got people commuting more through other means such as busses, trams, and metros.
Finally, since industry 1.0, a lot has changed as we keep implementing new technologies for industry 4.0. It will be crucial to implement robots in our workplaces and ensure we train our workforce to acquire these much-needed competencies. We must encourage companies to invest in robotization and employee training to keep Poland competitive in Europe, as employee shortages will continue growing.