26 października 2022
Category:

Community News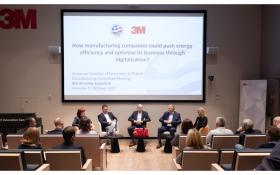 AmCham Wrocław Branch together with the Industry Committee and the Sustainability Committee organized a discussion panel at the 3M Wroclaw Superhub devoted to strategic challenges that are in front of the investors as a result of recent external factors that put pressure on companies regarding the investments that should be pushed and these that should be positioned.
> How to prepare the energy efficiency strategy?
> What results could be expected?
> Is it possible to adopt existing market excellence in every company to achieve similar benefits?
> How can manufacturing companies face the current challenges and resolve them by implementing new solutions?
> How to stay efficient and sustainable at the same time?
> How does the theme of "green return" affect the actions taken and is there a potential conflict between "ecology" and "efficiency"?
Our panelists Dominika Kawała (3M) Roman Sitko (Mondelez), Marcin Szybiak (Whirlpool) and Maciej Zielinski (Siemens) discussed recent trends, possible developments as well their own practical experiences in making the strategic decisions in the area of energy efficiency and digitalization for their organizations. Associate Professor Artur Klimek (Uniwersytet Ekonomiczny we Wrocławiu) made an introduction to the discussion panel and shared his expertise in the area of current economical challenges and future forecasts. Ewa Mikos, co-chair of AmCham Industry Commmittee (Siemens) moderated the discussion panel.
Dominika Kawala and Mariusz Wawer big thank you for hospitality, incredible support in the meeting organization and for hosting our guests in your premises in Wroclaw.
Visiting the 3M Innovation Center after the main part of our meeting left unforgetable memories for all our guests.
Professor Bogusława Drelich-Skulska thank you for your recommendations and substantive input into the preparation of the discussion panel.
Dariusz Sokulski, Siemens thank you for your presentation and valuable input into our discussion.