12 czerwca 2022
Category:

Community News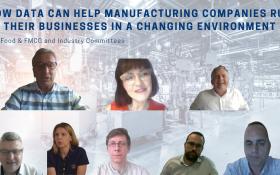 On Thursday, June 9, the AmCham Industry and Agri, Food & FMCG committees coordinated the topic of How data can help manufacturing companies run their businesses in a changing environment by our co-chairs Ewa Mikos Romanowicz, Director of Business Development & Governmental Affairs at Siemens with Andrzej Pawelczak, PR Director at Smithfield Polska. Our guest speakers were dr hab. Eliza Przeździecka, AmCham Chief Economist; Rafał Kuzniak, Expert Smart Infrastructure at Siemens; Krzysztof Zembrzucki, Maintenance Process Manager at Animex; Roman Sitko, Chairman of the Management Board at Mondelez Polska; Jacek Kaźmierczak, Logistics and Raw Material Director at Agri Plus; and Jacek Mechecki, Partner Management Executive at Siemens Industry Software.
The discussion covered the macroeconomic aspects of Poland's food & beverages sector, touching on subtopics such as employment, number of companies, fixed assets, and manufacturing R&D expenditures. Our speakers said that we must get used to how the world is changing and how we are now focusing on three pillars decarbonization, decentralization, and digitization.
Our energy mix is evolving into a much more diverse source of electrification from renewable energies, where the energy demand is growing steadily globally, and the focus should be on energy efficiency and storage. The markets are increasing in competition; however, there is much demand for microgrids, clusters, cooperatives, and closed systems from local energy players as some resources become scarcer with time, increasing raw material prices. Finally, to be more efficient, we must understand the transition to industry 4.0, the internet of things, and big data integrated within an entire ecosystem. The ecosystem integrates process automation and intelligent multi-data systems. This helps decision-makers ensure that we reduce waste by minimizing production errors and maximizing output to supply the market demand with near-zero deficiencies that would lead to product returns.
Keep an eye on our next committee meetings on the topic as companies keep modernizing their production systems and adapting to today's reality and demand.
View meeting presentations from
AmCham: Food & beverages sector in Poland – basic data
Siemens:
Jak dzięki danym zwiększyć efektywność energetyczna i klimatyczną?
Monetyzacja danych firm produkcyjnych w sektorze Food&Bev