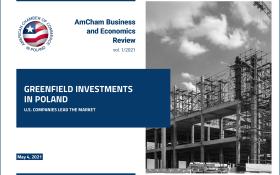 AmCham Business and Economics Review, vol. 1/2021
A greenfield investment is highly valued by the country that the capital inflows. This is because it creates new factors of production, assets and increases the host country's production potential. Such an investment requires the investor to have considerable resources and is a long-term project. Greenfield investments are investments in which a foreign investor decides to conduct its activities without using the existing infrastructure of the local enterprise. However, a new factory's construction is usually chosen by those who have not found a cooperation partner and are convinced about market development possibilities, including internal demand. Experts stress that such investments are the best proof of trust in the host country, its economic and social stability.
Although greenfield projects, by definition, are made from scratch, they can also be created by companies already existing in a given market. Therefore, the source of funding for greenfield investments is the capital flowing into the country or the profits generated (reinvestment).
There are many examples of greenfield projects created with capital earned by a company operating for some time, which had been established as the effects of greenfield investments (3M, IBM, McKinsey, Verifone) and acquisitions (Exide, Mondelez, Philip Morris, UPS). Nowadays, recently popular shared services centers are another venture of an investor already present in our country for some time. The table below presents examples of such entities that have set up operations in Poland due to the dynamic development of the core business by a particular company.
Table 1. Selected examples of American companies establishing new enterprises in Poland
* formerly CEAC, acquisition of the Centra S.A. | ** acquisition of the Kamis | *** previous corporate names: Cadbury, and later Kraft Foods | **** acquisition of the Zakłady Przemysłu Tytoniowego w Krakowie (ZPTK) | ***** acquisition of the Messenger Service Stolica
Source: own collaboration.
Local advantages