20 maja 2021
Category:

Community News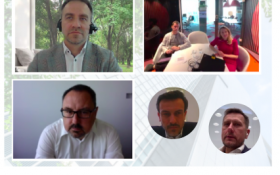 Green buildings that generate a lower impact on the environment are becoming essential nowadays for developers, retailers and tenants. Not so long ago, green buildings were preferably fashioned experiments of small groups of eco-activists.

Nowadays, companies keep turning to new, more efficient techniques, like 3M in Poland, which purchases 100% of its energy from renewable sources. 3M has also committed to becoming carbon neutral by 2050. The financial advantages of going green are also significant – well-designed green buildings have lower utility costs in the longer run. Finally, being green promotes a positive view of the company to the labor market that helps in effectively attracting and retaining individuals.

On May 20, AmCham Real Estate Committee organized a meeting entitled Green Buildings – Are They Attractive for End-Users Only, or Is There Something More? We discussed which buildings are becoming greener, who benefits from green buildings and why industrial companies, office developers, and investors consider green buildings.

Thank you to our speakers: Mariola Bitner, Associate and Pawel Klimczak, H&S and FM Operations Practice Leader at Cushman & Wakefield; Mariusz Wawer, Head of Governmental Relations at 3M Poland & East Europe Region, Robert Sztemberg, Business Development Director at JLL, and Michał Chodecki for moderating the discussion.