25 września 2022
Category:

Community News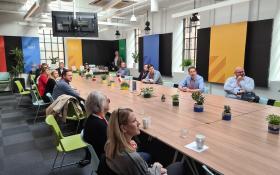 On Monday, September 26, the AmCham Digital Tech Committee had a meeting entitled Google for Startups Visit – Where Technology Happens at Google for Startups – Plac Konesera 10 in Warsaw. Our presenters were Michał Kramarz, Head of Google for Startups, Central Europe and Marcin Krasuski, Google Cloud Manager at Google Poland.
Our speakers mentioned various interesting things to the event guests, such as the support they give to Ukrainian startups for those companies not to fall off the ecosystem while they were developing well prior to the war. However, they mentioned they don't have hard metrics as some companies are at the stage where a large inflow of capital will help them develop, while other companies are more at the stage of strategy development need such as a marketing or pricing strategy, for example. The Google for startups campus has changed a bit due to how the pandemic has developed. They work in a more hybrid format rather than having startups sit in one place five days a week. This hub has become more of a meeting place, such as attending key events, and when people who live in different places want to meet physically and not virtually to have somewhere to go to achieve such a meeting.
Following the first topic about startups, the key subject of this meeting was the cloud. Google is present in 35 regions; alone, in 2022, they have launched in 5 new regions. Although some countries have a challenge with renewable energy, Google is working hard on being as energy efficient as possible as being a large purchaser of renewable energy. As we got back into the conversation about the cloud, many companies use the Google cloud in various sectors, such as retail, healthcare, financial services, and manufacturing. The use of the cloud is faster, safer, and more efficient, and companies are encouraged to move toward the cloud.
After the meeting, our guests had the opportunity to have a short tour of the campus with some more explanations on how they assist startups in Poland.