17 marca 2021
Category:

Community News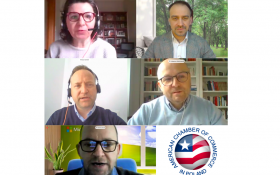 Today, the AmCham Sustainability Committee organized a meeting entitled Getting to Carbon Neutrality – a Review of Best Practices. Our speakers were Tomasz Gasiński, Director at Deloitte, Risk Advisory; Mariusz Wawer, Head of Governmental Relations at 3M Poland & East Europe Region and the Co-Chair of the AmCham Sustainability Committee; Mariusz Mielczarek, Head of Public Policy & Government Affairs CEE, Amazon; Małgorzata Skonieczna, Public Policy/Government Affairs & Communications Director, Central Europe of PepsiCo Consulting; and Marek Zaleski, Government Affairs Specialist and Philanthropies Lead at Microsoft.
Tomasz Gasiński underlined that climate issues are no longer just a scientific question rather a business issue. According to our speaker, it is essential to develop a risk-based management approach. Our speakers touch on their best practices: like 100 rPET or Agri programs (Pepsi); 3M Sustainability Value Commitment; printing books and clothes on an individual customer offer or donating broken or unwanted goods (Amazon). Microsoft mentioned using ozonated water instead of chemicals by the cleaning crews, paper tapes for wrapping packages.
The meeting moderated by Mariusz Wawer got an attendance of 70 people and will be continued in the future.