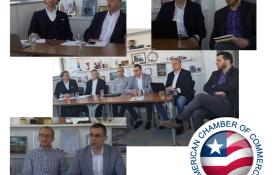 On Thursday, May 26, 2022, AmCham Tax and Financial Services Committee met to discuss the topic of e-invoices – a solution already available and recognized by the Polish tax system that will soon become obligatory in B2B transactions. Polish National e-Invoice System – KSeF – is one of the first in the EU that made structured XML invoices available to companies.
Our experts Wojciech Gede (PwC), Jarosław Glapski (Order2Cash), Paweł Matulewicz (PwC), Marcin Sidelnik (PwC), Laszlo Sinkovic (Order2Cash) and Tomasz Sitarek (PwC) presented regulatory state-of-art in Poland, using other countries that already introduced e-invoicing as a background and lessons learned.
Later, they moved to discuss potential threats and opportunities for businesses. Among others: automatization of invoicing processes, avoiding the risk of mistakes, higher global compliance, but also limited experience of both business and the regulator, together with a short lead time to introduce an obligatory solution, and potential limitations of the governmental platform.
No matter many questions that still have no answers on the regulator side, our experts advised on how the process of e-invoice implementation should be designed and implemented in each organization – no matter its size and specificity.