11 stycznia 2021
Category:

Business & Economics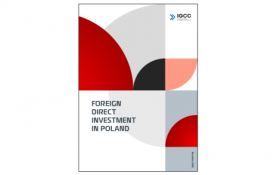 The value of foreign direct investments reached $236.5 billion in 2019. It corresponds to 40% of Polish GDP. The amount of employment in companies with foreign capital operating in Poland amounted to almost 2 million people at the end of 2018, which means that a foreign investor has created every sixth job position.
As indicated in the report prepared by AmCham for the International Group of Chambers of Commerce in Poland (IGCC), nearly 25,000 foreign-owned enterprises from 107 countries operate in our market. Poland's most influential investors are from Germany, the United States, Great Britain, and France.
The English version of the report can be found at the following link: Foreign Direct Investment in Poland
The Polish version at the following link: Zagraniczne Inwestycje Bezpośrednie w Polsce