2 lutego 2021
Category:

Community News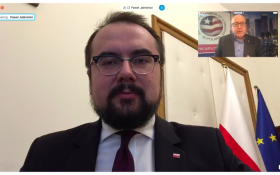 On Wednesday, February 3, AmCham had the pleasure to host Paweł Jabłoński Undersecretary of State at the Ministry of Foreign Affairs at the February Monthly Meeting moderated by Tony Housh, AmCham's Chairman.
Three Seas Initiative
Undersecretary of State Jabłoński touched on the various topics, including the Three Seas Initiative. He mentioned how the initiative's cooperation began politically but evolved progressively into a more concrete investment initiative. The main effort they have achieved in the last two years is implementing the Three Seas Initiative Fund, which was introduced to encourage the private sector to join the regional projects. Yet, he emphasized that the fund is only a tool within the initiative, not to confuse people on the project's entirety. This tool is an investment tool present for companies to ensure that it will not interfere with politics.
Any investments in the fund have been well received, even symbolic ones. The investments have been well received by the public image, which shows the region's dedication in wanting this project to move forward to develop the three pillars of the fund being digital, energy, and transport. This approach is promising as the House of Representatives also supports it from our allied partners, which strongly support digitizing the region and increasing the region's energy security. More discussion about the future of the initiative will be discussed during the next meeting summit in Sofia, Bulgaria, roughly sometime in July. The government is undoubtedly eager to hear from the private sector to ensure they have viable topics discussed during the next summit. During the next summit, there will be a discussion about the region's digitalization as Poland has both software and hardware capability for growth in the future.
Energy-Related
Regarding energy security, U.S. companies are involved in the Polish energy sector, such as importing U.S. LNG. Yet, the country has been dependent on Russian oil and gas for decades. But, it was mentioned that starting from next year, the contract with Russia ends. If there are obstacles for American companies, the government is open to dialogue to listen to these companies' challenges.
Multination Information Sharing
Through the Three Seas Initiative, they want to integrate a communication system in terms of roads, taxes, and duty collection. It was emphasized that anything transport-related has been improving since 2015 as countries have integrated a common system. Yet, there is still some dialogue to work it out between nations, but this initiative is there to find the common approach for the particular issues at hand. As we integrate our national systems, it will be considered one universal market.
European Commission Disputes
The Ministries predictions in terms of disputes are optimistic, not at 100%, as there is always disagreement. Still, we have seen during the last summit possibilities in finding resolutions within these disputes where there is a will from both sides in resolving to further cooperation for the interest of all parties involved. It was mentioned that the media does fire up the situation. Still, they always try to find common ground between each other, especially from a business perspective, to ensure the Polish economy keeps growing.
EU-Washington Disagreements
It was mentioned that the period of uncertainty and blame comes from both sides of the ocean. Yet, Poland has always been a strong advocate when it comes to transatlantic relations. No matter the administration, there are strategic areas that should be of focus for both parties. They hope they will be cooperating rather than arguing to ensure the stability of the relationship between both the EU and the U.S. as we tackle challenges such as supply chains as we have seen with China during the pandemic to ensure we minimize risks and threats to the region altogether and maintaining dialogue on future topics of interest.
Polish Government Approach for Poland in the EU vs. Transatlantic Relations
Regarding country and regional autonomy, the pharma sector got hit by broken supply chains where we have seen the reluctance of some nations in sharing their finished products, for example, China, where the EU had to rethink their strategy on sectors of interest for the safety and security of nations in the EU. Shutting down the supply chain suddenly is a threat to Poland and its neighboring nations, especially during a crisis. Is Poland better off with cooperation with EU countries, non-EU European nations, and transatlantic partners? Those are questions the government needs to keep in mind for its nation's safety. They do not deny that Europe needs a robust European business presence, which is homegrown, yet they are not excluding their U.S. partners as there is room for strong cooperation between the U.S. and Europe, particularly Poland.
Travel – Tourism – Aviation
A question was asked if the Three Seas Initiative will involve the travel, tourism, and aviation sectors. The Undersecretary of State agrees that some work and discussion should be done to support and promote the region in those sectors as they recover slowly from the pandemic. These sectors create many jobs and need to keep people's minds and hearts in the interest of various sectors that the pandemic has hit to bring back jobs to all affected.
Work Mobility
As investors are looking to invest in various hubs in Poland, such as research and development and precision manufacturing, companies wonder how to bring vital external workers to Poland to facilitate these investments. The Undersecretary of State mentioned that since mid-January, they had implemented a facilitation process of having some key workers access to Poland for a short period without quarantine as long as they have a negative COVID-19 test. But, when it comes to hotels, there are still pending discussions as they rely on their health experts to implement the general population's best safety measures.
Reducing Insecurity in Poland and the Region
It was mentioned that it is easier to get in touch with the public administration to start investment procedures. Poland still has low employment costs compared to their western counterparts, where they still believe Poland will be a country that will keep growing in the coming years, and all experts predict so as well.
Countries can look to the East, such as Ukraine and Belarus, but they need to keep in mind that they are not EU countries or NATO allies like Poland, where there are risks in investments and corruption that need to be kept in mind. Coming to invest in Poland vs. the Eastern part of Europe certainly has differences. The Undersecretary of State would be interested in showing how Poland is different from other countries in the region. They would like U.S. stakeholders to see us differently from other partners in the CEE.
Poland's Ambitious Plans
The Undersecretary of State believes they will be focusing on presenting Poland as the most prominent key country in the region but not only. They also want to emphasize that investments will also support the neighboring countries.
He has compared Poland to Germany, where there are differences, and this should be clear. Poland has a lower cost of doing business, but doing business with Germany certainly due to history feels safe and secure. Yet, they should consider the CEE and Poland as it is favorable to both parties, the nations of Central and Eastern Europe, and the investors' potential gains from such investments.