16 lutego 2021
Category:

Community News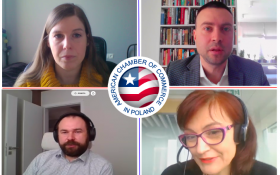 On Tuesday, February 16, 2021, AmCham Manufacturing Committee organized a meeting entitled Employee Testing Against COVID: Technical and Legal Aspects. The meeting was hosted by Dominik Kania / Woodward – Manufacturing Committee co-chair. We welcomed the new co-chair of the Committee: Ewa Mikos-Romanowicz from Siemens.
Thanks to AmCham Medical Devices Working Group's support, the meeting answered many questions about COVID employee testing.
First, Joanna Bargieł, Product Manager at BECTON DICKINSON, gathered all the information and information sources on COVID 19, went through SARS COV 2 and COVID overviews, and explained stages and symptoms of the disease. Different types of tests, including PCR, antigen, and antibodies, were compared – not only on their efficiency but also on different usage of each test type, specific requirements to be fulfilled when testing, and how tests should be performed. Last but not least, important information on how to choose the right testing method has been summarized. At the same time, a discussion on 'Is it worth to screen your employees' started.
In the second part of the meeting, advocate Oskar Luty from the Polish Association of Medical Deceives (POLMED) & Fairfield Law Firm was deliberating on the legal side of the employee testing programs. Can an employer force his employees to be tested or is it better to encourage them to self-testing? Can the testing be financed from the company's budget? What about test results – when is an employee forced to reveal the test results and what actions should an employee take when the test result is positive.