22 czerwca 2021
Category:

Community News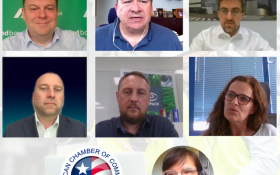 On Tuesday, June 22, AmCham Manufacturing Committee organized a panel debate on Efficiency of the manufacturing businesses during lockdowns and the pandemic.
Our panelists: Piotr Krzysztoporski, ERP & IPA Practice Director of Mindbox S.A., Tomasz Lazar Head of Customer Services at Siemens Sp. z o.o., John Lynch, CEO & Founder of Lynka, Szymon Najdychor HR Director of CANPACK S.A., Agata Woźnicka-Giza Regional HR Manager, Poland at CANPACK S.A. and Adam Wiesner Senior QHSE Manager, Project Manager, Construction at TAKENAKA EUROPE GmbH – Poland Branch discussed how COVID and lockdown has changed manufacturing companies and their way od work.
Main conclusions from our speakers:
– Neither business model nor the way of operation has not changed in some, traditional businesses eg. construction sector (Takenaka). Those busiensess has also been a subject of minor changes in customers' expectations and approach (Takenaka).
– In contrary some businesses had to face:
quick adoption of new customers' behavior (smaller order sizes/ changed distribution channels; LYNKA, CANPACK)
customers' expectations (change in product portfolio/mix – LYNKA, CANPACK)
or way of working (pre-diagnostics/Siemens, Mindbox).
– At the same time internal communication, transparency and closer bonds between employees were improved no matter, or thanks to hybrid and remote work (LYNKA, Siemens, CANPACK). Additionally, exchange of information between remote locations has been better than ever before.
– Certain business gained new opportunities but what's more important are now able to serve customers in the way that was not possible before (fully remote systems deployment/Mindbox).