23 lipca 2019
Category:

Community News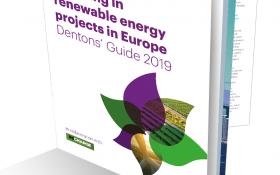 English version below
Kancelaria Dentons publikuje przewodnik po inwestycjach w projekty energii odnawialnej w Europie
Dziesięć lat temu Unia Europejska zobowiązała się, że do roku 2020 jedną piątą energii będzie pozyskiwać ze źródeł odnawialnych. Jesteśmy coraz bliżej tego celu, ale nadal podnosimy sobie poprzeczkę. W roku 2018 Unia Europejska wyznaczyła nowy cel – do roku 2030 uzyskiwać aż 32 procent energii ze źródeł odnawialnych.
Najnowsze wydanie przewodnika opracowanego przez Dentons ("Investing in renewable energy projects in Europe) pokazuje dylematy, przed jakimi stoi dziś branża energetyczna. W poszczególnych regionach rozwój nowych projektów zwolnił lub całkowicie został wstrzymany, przynajmniej w odniesieniu do niektórych technologii. Stało się tak między innymi na skutek zmniejszenia wsparcia finansowego ze strony państw członkowskich lub wprowadzenia ograniczeń regulacyjnych. W innych przypadkach, rozwój projektów przebiega dynamicznie i realizacja dobrych inwestycji nie napotyka znaczących problemów z finansowaniem – lecz w dłuższej perspektywie czasowej pojawiają się pytania o wpływ dużych ilości energii odnawialnej na system energetyczny oraz na stabilność rynku. Odpowiedzi na te pytania zaczynamy dopiero szukać.
Europa nadal czerpie korzyści z ogólnoświatowych zjawisk, takich jak malejące koszty technologii. Jednocześnie musi zabiegać o zainteresowanie inwestorów w świecie, który staje się coraz bardziej konkurencyjny i branży, która szybko się globalizuje.
Zachęcamy do pobrania najnowszej edycji przewodnika Dentons "Investing in renewable energy projects in Europe". Publikacja omawia najważniejsze procesy w otoczeniu regulacyjnym i obrazowo przedstawia możliwości rozwoju energetyki odnawialnej w 20 jurysdykcjach w krajach Europy i Azji Środkowej.
Kancelaria Dentons przygotowała przewodnik po rynku energii odnawialnej we współpracy z RECHARGE, globalnym dostawcą informacji i rozwiązań dla sektora energetyki odnawialnej.
Dentons launches 2019 edition of its 'Investing in renewable energy projects in Europe' guide
Ten years after the European Union vowed to produce 20 percent of its energy from renewable sources by 2020, it has made huge progress toward that goal. Now, a new challenge beckons: In 2018, the EU formally set itself a binding target to achieve 32 percent of energy from renewables by 2030.
The latest edition of the guide "Investing in renewable energy projects in Europe" surveys an industry at a crossroads. In some jurisdictions, at least in respect of some technologies, the development of new projects has slowed or come to a halt—often by the curtailing of publicly funded financial support or other regulatory constraints. Elsewhere there is a strong development pipeline, and good projects have little difficulty in finding suitable finance, but for the longer term, there are questions about the system impact of high volumes of variable renewable generation and its implications for electricity market design, which are starting to be addressed systematically only now.
Europe continues to benefit from trends like falling technology costs worldwide, but it must compete for attention and investment in an increasingly competitive and global sector.
As usual, the guide looks not just at EU member states but also at a number of diverse and often dynamic neighboring renewables markets. Download the 2019 edition of the guide for snapshots of the industry across 20 jurisdictions in Europe and Central Asia.
Dentons has produced this guide in cooperation with RECHARGE, the global source for renewable energy news and intelligence.