2 czerwca 2019
Categories: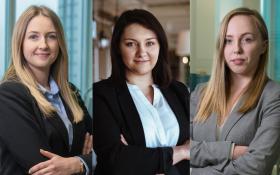 English version below
Cresa, międzynarodowa firma doradcza na rynku nieruchomości komercyjnych, zatrudniła trzy nowe osoby w polskim oddziale. Do działu Reprezentacji Najemców Biurowych dołączyły Elżbieta Golik i Ewa Nicewicz, a Dział Wycen wspiera Weronika Pikus.
Wiele czynników sprawia, że kandydaci do pracy postanawiają związać się z firmą Cresa i z sukcesem realizować z nią ścieżkę kariery zawodowej. Cresa rozwija kompleksowe usługi dla najemców powierzchni biurowych, magazynowych i handlowych, wspieramy również inwestorów na rynkach kapitałowych i doradzamy w zakresie wycen i analiz na rynku nieruchomości komercyjnych. Jesteśmy zainteresowani współpracą z ambitnymi, samodzielnymi i wszechstronnie utalentowanymi osobami, które będą mogły korzystać z naszego doświadczenia, jak również przyczynią się do rozwoju firmy – mówi Piotr Kaszyński, Partner Zarządzający w firmie Cresa Polska.
Weronika Pikus dołączyła do działu Wycen firmy Cresa w Warszawie. Jest licencjonowanym rzeczoznawcą majątkowym. Doświadczenie zdobywała w takich firmach jak PwC i mBank. W Cresa Polska zajmuje się wycenami nieruchomości. Ukończyła Szkołę Główną Gospodarstwa Wiejskiego na kierunku Gospodarka Przestrzenna, a także studia podyplomowe z wycen nieruchomości na tej samej uczelni.
Elżbieta Golik objęła stanowisko Doradcy i Specjalisty ds. Rozwoju Biznesu w Dziale Reprezentacji Najemców Biurowych w krakowskim biurze firmy Cresa. Zajmuje się pozyskiwaniem i obsługą klienta. Wcześniej pracowała w grupie Nowy Styl i w Alior Banku w Krakowie. Wykształcenie zdobywała na Akademii Pedagogicznej im. KEN.
Ewa Nicewicz dołączyła do Działu Reprezentacji Najemców Biurowych jako Młodszy Doradca. Wspiera zespół w warszawskim biurze firmy Cresa. Ewa pracowała wcześniej w agencji nieruchomości komercyjnych Patron Brokers.
Cresa Polska zatrudnia obecnie ponad 50 pracowników w Warszawie, Wrocławiu, Trójmieście, Łodzi i Krakowie. Firma planuje dalszą ekspansję w Polsce i w Europie.
Cresa expands its Polish offices
Cresa, a global commercial real estate services firm, has hired three more professionals for its Polish branch. Elżbieta Golik and Ewa Nicewicz have joined its Office Department while Weronika Pikus supports its Valuation Team.
"Many factors are driving job seekers to join Cresa and to advance their professional careers with us. Our integrated services include office, industrial and retail tenant representation services, investor support on capital markets and commercial property market research and valuation. We look forward to liaising with ambitious and independent talents who will both draw on our experience and contribute to our further growth," says Piotr Kaszyński, Managing Partner, Cresa Poland.
Weronika Pikus joined Cresa's Valuation team in Warsaw. She is a licensed property valuer and gained professional experience at such companies as PwC and mBank. At Cresa Poland, Weronika will be responsible for real estate valuation. She graduated in Land Management from the Warsaw University of Life Sciences and completed postgraduate studies in real estate valuation there.
Elżbieta Golik took up the position as an Advisor and Business Development Specialist in the Office Department in Cresa's Krakow office with responsibility for client acquisition and services. Previously, she worked for Nowy Styl and Alior Bank in Krakow. She studied at the Pedagogical University of Cracow.
Ewa Nicewicz joined the Office Department as a Junior Advisor in Cresa's office in Warsaw. She previously worked for commercial real estate agency Patron Brokers.
Cresa Poland already has a total of more than 50 professionals in its offices in Warsaw, Wrocław, Tricity, Łódź and Krakow. It is planning to expand further across Poland and Europe.