29 października 2018
Category:

Community News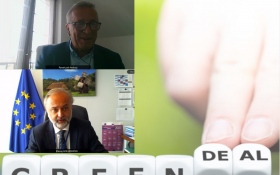 The 5th and final stage of the Hoover Table Project has concluded!
It is a great pleasure to announce that the Hoover Table Project organized by the U.S. Consulate together with the City of Kraków, American Chamber of Commerce and the Polish Philanthropic Institute was very successful!
Thanks to the generosity of the donors, we managed to collect a notable sum of 61.000 PLN. As a result, 30 children from day-care facilities in Kraków will participate in a summer Adventure English Language Camp.
On the 25th of September, the USA and Herbert Hoover history contest marked the beginning of the project. 69 children participated in this knowledge competition. The winners were awarded diplomas and memorial souvenirs on October 25th in the Parliament Chamber of Krakow City Hall.
We are pleased to announce that our member companies supported this project in the total amount of 20.000 PLN. Donors included Motorola Solutions, IBM, Pegasystems, GE Healthcare, BP, Jacobs, International School of Kraków (ISK), PM Group and Cushman & Wakefield.
We would like to THANK YOU for your donations, participation and support for the project. As the Krakow & Katowice business community we rely a great deal on the local communities and we are happy to have had the opportunity to give back. Projects like this build strong bridges between American and Polish communities but more importantly between people.