21 kwietnia 2022
Category:

Community News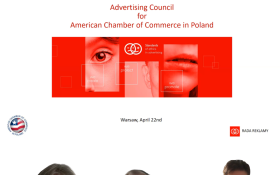 On Friday, April 22, AmCham's Marketing and Communication Committee covered "Challenges and threats of Greenwashing in advertising and communications" with guest speakers from Rada Reklamy (Advertising Council): Piotr Kwiecień, Director, and Lucyna Pruska, Secretary-General moderated by Łukasz Kowalski.
The meeting covered advertising challenges and concerns through marketing communication channels. The green transformation has become a hot topic for many sectors adapting to the pressure done on them by government entities, shareholders, and various stakeholders through public opinion. Due to this pressure put on companies, there is a threat that some entities will falsely advertise something as green, although it may not be the case.
During the Committee meeting, the discussion point was the ethics of the Greenwashing phenomena, where being ethical is of great importance so that the public opinion feels the trustworthiness of the products and services they purchase. Not all companies advertise with bad intent; some are done by mistake due to the information they have at hand. However, even with mistakes, it can be costly in the eyes of the consumer, as it is the company's responsibility to ensure that all is clear before launching an ad campaign.