9 marca 2022
Category:

Community News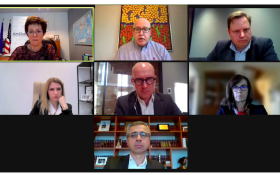 On March 10, during the Business and Global Impact of the Ukraine-Russia Crisis webinar Susan Danger, Chair of the AmChams in Europe and CEO of AmCham EU, hosted Andy Hunder, President AmCham Ukraine; Tony Housh, Chairman AmCham Poland; Irisz Lippai-Nagy, CEO AmCham Hungary; Mila Malairau, Executive Director AmCham Moldova; Ionut Simion, President AmCham Romania; Ronald Blasko, Executive Director AmCham Slovakia.
The webinar began with Andy Hunder, who started by thanking AmCham Slovakia for helping them establish themselves in Slovakia as they had to leave Ukraine due to the conflict in their country. Andy told everyone that they are currently working from Kosice due to the proximity to Ukraine, making it easier to maintain close contact with some of its staff in Ukraine, making sure they are safe and have access to prepaid salaries to sustain themselves. He also mentioned that they are coordinating humanitarian operations, working on ensuring legislation are passed to allow companies from Ukraine to relocate operations to other countries, and thanked the possibility of having Starlink online as the internet is scarce as the network can go down at any moment making it harder to maintain communication with the country.
Our other speakers have touched on how they contact their governments to aid Ukrainians by giving them national identity numbers to work and access healthcare and education for their children. It was also mentioned that they are in close contact with their member companies for logistics for humanitarian purposes and transporting goods to Ukraine.
The conflict is still lingering and looks like it can last from a few weeks to a few months as peace talks have not reached an agreement so far. Our responsibility is to help the people in need and keep our member companies informed on the effects of inflation, logistics, geopolitical risks, emergency legislation being passed for businesses and regular citizens, and support of civil society.
As communication is essential, if you would like to help fund the ACE for Ukraine Starlink initiative, please write to us or contact [email protected] directly.