13 lipca 2022
Category:

Community News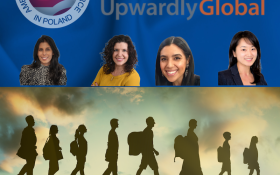 On Tuesday, July 12, AmCham HR committee held an online meeting with Upwardly Global and Accenture Federal Services on the topic of "Best practices on setting-up refugee hiring programs" for our member companies and organizations interested in engaging themselves in establishing a cooperative program for Ukrainian newcomers.
Our speakers from Upwardly Global were Jina Krause-Vilmar, President & CEO; Jennie Murray, Vice President of Programs; Kimberly Cohen, Director of Employer Engagement; and from Accenture Federal Services, we had Wendy Chan, Senior Manager, Strategy and Consulting Services.
The committee meeting started with a short introduction on how Upwardly Global helps immigrant and refugee professionals get back to work in their host country as they try to find themselves in a new environment due to the circumstances that forced them to leave their home country. The current war in Ukraine has seen the most refugees flee their homeland since WW2, with the vast majority settling in Poland, where women and children are the primary refugee group as men between ages 18-60 are banned from leaving the country with some exceptions to the rule. Many refugees from Ukraine have professional backgrounds; some 60% of Ukrainian women have a bachelor's degree or higher.
However, Ukrainian job seekers face barriers in integrating themselves into the Polish workforce with a lack of strategy, resume writing under Polish labor standards, upskilling/ reskilling & digital literacy needs, lack of local language proficiency and professional network, and challenges with support such as financial, childcare, mental healthcare among others.
Upwardly Global has been successful in the United States as they have worked with over 750 Ukrainians to date through their career readiness & skilling program, placing nearly 500 into career-track jobs and wanting to replicate this success on the Polish market. Ukrainians are skilled in information technology, logistics, business development, healthcare, administration and HR, legal, marketing and advertising, and education. During the meeting, two success stories were mentioned where two refugees with high skills in analysis and engineering were forced to babysit and drive people around when they first arrived in the United States where Upwardly Global assisted them in finding jobs in their fields becoming a business analyst and senior production planner at two cooperative companies.
Companies in the United States are interested in filling their workforce with qualified refugees. Wendy Chan from Accenture Federal Services said they are a prime example of assistance where they hired up to 70 refugees in cooperation with Upwardly Global. She also mentioned that assistance is good for your company and the entire ecosystem as their clients have seen how this helped skilled people in need; it inspired their clients to follow suit by joining the program.
HOW BUSINESSES IN POLAND CAN RESPOND:
1. Create a list of open roles in Poland/remote and the skills needed to fill those roles so that local partners can create skilling opportunities and locate the key talent.
2. Training your team on refugee hiring best practices.
3. Contact Upwardly Global to coordinate a unified solution to fill in the labor gaps of your organization with refugees who have the skillset to fill in those gaps.
4. Plan for wrap-around support for Ukrainians who need transportation, childcare, access to mental health, and language acquisition.
For more information on how AmCham member companies can cooperate with Upwardly Global, you can contact: Jina Krause-Vilmar, CEO – [email protected]; Jennie Murray, VP of Programs – [email protected]; Kimberly Cohen, Director of Employer Engagement – [email protected].