4 maja 2020
Category:

Community News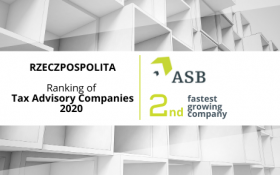 In the Ranking of Tax Advisory Companies published on April 29, 2020, by Rzeczpospolita, ASB Tax was recognized as the second fastest-growing advisory company. Thus, the ASB Tax is among the 35 largest tax consultancy companies in Poland. It is a tremendous honor for us, and we would like to take this opportunity to thank our partners and clients for fruitful cooperation and trust. However, our tax team is the one who deserves special thanks for earning such an excellent result with their commitment and hard work.
Doubling the financial results is a great success, but we are currently focusing on supporting clients in the fight against the crisis. As Łukasz Bączyk, Head of Tax told Rzeczpospolita: "At the moment, we are focusing on the maximum application of anti-crisis regulations, wherever possible. It is also necessary to ensure real customer support in these difficult times. This is not an issue, as from the first contact with the client, we are always focused on a long-term relationship", Bączyk says.
We encourage you to read the entire article in Rzeczpospolita and check the ranking
here.