13 kwietnia 2023
Category:

Community News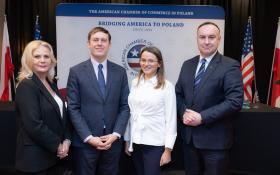 Transatlantic relations, in the context of the war in Ukraine and geopolitical tensions in Asia, were on the agenda of the AmCham Monthly Meeting in April, with speakers Prof. Danuta Hübner, Member of the European Parliament (who joined the meeting online); Michał Kobosko, Vice-Chair of political party Poland 2050; and Michał Baranowski, Managing Director, German Marshall Fund East.
The discussion was moderated by Marta Poślad, Member of the AmCham Board of Directors and Public Policy Director, CEE and Transatlantic, Google.
Sharing her perspective as an MEP working for the European Parliament in Strasbourg and Brussels, Prof. Hübner said that the transatlantic relations have never been so strong as they are at present because they are linked by "mutual trade and investment" which supports "millions of jobs" in the US and the EU. With the creation of the EU-US Trade and Technology Council (TTR) in 2021, both the EU and the US "have worked together to secure a long-term foundation "for our political, economic, trade, and technological partnership, which is a new approach to how our two economies fit for the future," the speaker said, adding that "today, this foundation is stronger than ever and much more resilient."
Prof. Hübner said, among other issues, the TTR focuses on how to boost transatlantic trade by reducing regulatory impediments and unifying—where possible—the different standards in the US and the EU markets.
Other issues that the TTR is committed to reaching a global sustainable arrangement on steel and aluminum production, subsidies for aircraft production, and climate change. The speaker said that, as the US and the EU agree that a sustainable industry has to be climate neutral, their different systems of approaching the problem should be complementary.
Prof. Hübner also noted that the EU moved closer to the US position on geopolitical challenges posed by China, learning to weigh its political, economic and technology choices against national security risks.
Michał Baranowski said that fierce economic competition, driven by politics, characterizes the new geopolitical situation. With the war in Ukraine, the West has proven more united than anticipated by Russian President Putin. For Poland, it creates a need to continue spending heavily on defense to rebuild Ukraine, a war-ridden country today, but such that in the future will be a thriving economy.
Talking about the growing geopolitical competitiveness of China, Baranowski said that most politicians in Poland agree that if there are two war theaters—Ukraine in Europe and Taiwan in Asia—they will be strongly linked together through strategic cooperation between two autocratic systems in Russia and China, and this situation does not give the EU the luxury of being neutral.
Michał Kobosko said that currently Poland spends on defense 4 percent of its annual GDP, "which is a lot in the country's current economic situation" but the policy of the modernization of the Polish army has a universal backing across the entire political spectrum.
View the gallery HERE