24 października 2021
Category:

Community News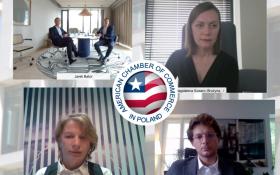 On October 20, the AmCham Real Estate Committee organized a meeting entitled Apartments for Rent (Institutional Landlords) – Booming Sector of Real Estate in Poland. Our speakers were Magdalena Szwarc-Brożyna, Partner at Dentons; Jan Trybulski, Vice President Investments at Griffin Real Estate; and Mira Kantor-Pikus, Partner at Cushman & Wakefield. The moderators of the meeting were Jarek Bator, Head of New Business at Echo Investment and Michał Chodecki, BTS Development Director at Panattoni.
In the last few years, the private rental sector (PRS)has become increasingly popular in Poland. Some growth factors for this sector include extensive housing shortages (a deficit of up to two million dwellings in the market), housing purchase prices are growing much faster than rent prices, and the growing urban population. In the European Union, 30 percent of the population lived in rented accommodation in 2019, compared to 16 percent in Poland. High demand for dwellings combined with declining affordability of own housing and increasing waiting times for council flats will make more and more people decide to rent apartments.
During the meeting, Jarek Bator stated that Poland is also one of the EU countries with the smallest average number of dwellings per 1000 citizens and one of the EU countries with the smallest average number of rooms per person. For this reason, the overcrowding rate in Poland is one of the highest in the EU which amounts to 37.6%.
Recently, we have seen a temporary drop in rental prices in all major cities in Poland after the breakdown of the COVID-19 pandemic due to lower demand from businesses and students. After being forced to spend more time at home during the lockdown, people are more prone to choose flats that provide higher standards. Our guests confirmed that we see increased interest from foreign operators to enter the market primarily by acquiring projects from developers on a forward funding basis. Also, acquisitions of Polish developers are partly aimed to provide a PRS pipeline for acquiring parties. Given the increased interest in PRS from international investors, established developers are working on packages of PRS projects to be sold directly to operators.