12 grudnia 2018
Category:

Community News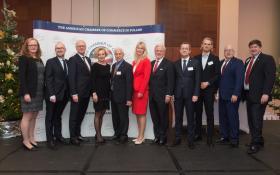 On Monday, Decmber 10th AmCham held it's Annual General Meeting where Members elected a new Board, looked back on the past year and forward to the next, and celebrated the Christmas season.
AmCham Members elected to the Board of Directors:
Magdalena Pavlak-Chiaradia from ERM Polska, Marek Szydłowski from TVN, Sławomir Sikora from Bank Handlowy, Jolanta Jaworska from IBM Poland, Joseph Wancer from BGŻ Paribas, AmCham Managing Director Dorota Dąbrowska-Winterscheid, Roman Rewald from Weil, Gotshal & Manges, Jacek Drabik from Motorola Solutions Poland, Marcin Petrykowski from S&P Global Ratings, Tony Housh from Northrop Grumman, John Lynch from Lynka, Robert Bednarski from Facebook, and Robert Orzyłowski from Lockheed Martin.
See pictures from the event here.