28 marca 2021
Category:

Community News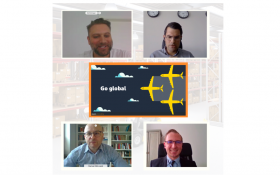 On March 25, 2021, the American Investor Desk, an AmCham Poland program that assists Polish entrepreneurs in expanding to the United States, had the pleasure to host an event with Amazon. The event's title was "Sprzedawaj na Amazon – warsztaty online dla przedsiębiorców," a workshop type of event for entrepreneurs interested in developing their online sales capabilities for their global expansion, including the American market, using the Amazon store.
The meeting began with an introduction about Amazon.pl from Mariusz Mielczarek, Head of Public Policy & Government Affairs CEE at Amazon. It was then followed by Cyprian Iwuć, Owner of Rainbow socks, and then concluded by Rolf A. Kimmeyer, Manager Amazon Global Selling – Global Business Development.
Cyprian Iwuć emphasized how the amazon ecosystem is well structured and how his company benefited drastically from it. He mentioned how before expanding, he spoke to consultants whom all told him going to America, you have to go big or not go at all, which was discouraging to hear, yet he did his research and found that the Amazon ecosystem could be the key to his market entry to the United States. Rainbow socks have many types of socks, even socks for diabetic people registered as medical socks on the U.S. market. He brought this up as he explained how the Amazon ecosystem is well organized to the point of protecting your products from being replicated up to some degree, but you must still have the proper protection in place, such as trademarks and patenting your goods before entering new markets such as the United States. Yet, our speaker highlighted that all companies have to look at the pros and cons before market entry and ensure one does its market research to ensure they make the right choice to stay local or go global. One has to look at many factors such as transport costs, logistics, service usage, having the proper legal requirements when entering a market, and many more barriers to tackle before going global. All in all, our speaker told all attendees not to be afraid to go global and to take a chance if they have the means to try to do so using the Amazon.com service, giving them access to a dynamic American market.
Our next speaker, Rolf A. Kimmeyer, explained to participants about specific details from the Amazon offer, including organizational and technological support in the form of consulting, innovative software and its operation, the provision of transport services, and the warehousing of goods. Our speaker emphasized to our participants that they should leverage the service in terms of logistics, where it was mentioned that once you get started with the service, you then have access to the world. He also explained to the viewers that following the online trend during the pandemic is beneficial as businesses understand their customers regarding their identification to particular products they purchase. Understanding your customer and adapting to them will keep your business dynamic and potentially successful in various markets. Once you are ready to go global, one should not be afraid to ship their products as Amazon has fulfillment centers worldwide, eases your products' logistics being available to many international customers. Our speaker concluded that all our attendants should take a look at the Amazon.pl launch and consider registering for the service as quickly as possible as they would be the first movers growing their track record, ensuring that other competitors entering the service later have more of a challenge going against your product as your favorable track record keeps growing.
The event has shown much interest among our attendants, with many questions answered during the Q&A session. Therefore, we are proud to announce that we plan to do a follow-up event with Amazon in the near future.